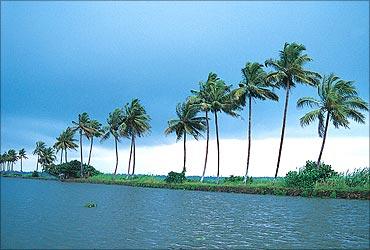 Till Thursday, the country had received 41 per cent less June rainfall than normal - the scantiest in a decade and one of the rarest occasions when the shortfall in the month was more than 30 per cent - private weather forecaster Skymet said in its daily weather forecast on Friday.
Even as the southwest monsoon continued to remain sluggish over many parts of central and western India, Skymet said: "The month of June has been the driest in India in a decade."
According to the India Meteorological Department (IMD), of the 36 meteorological subdivisions, the rainfall in the month was excessive in five, normal in six, deficient in 11 and scanty in 14 subdivisions. However, a ray of hope was seen in the official weather forecaster's expectation of a monsoon revival from July 6. What is also bolstering this hope is that the fear of the El Niño phenomenon, which could have caused a major drop in southwest monsoon, is showing signs of waning.
However, the adverse effect of a low rainfall in June and its long absence in many parts of India are also becoming apparent.

Data from the department of agriculture showed kharif crops were sown on 13.15 million hectares till June 27, which was 34.55 per cent less than the area covered in the corresponding period last year. Worse, the area covered during the period this year was around 13 per cent less than normal acreage — the average of the past five years.
Sowing of rice, pulses and coarse cereals, grown mainly in eastern, central, western and northern parts of the country, were the worst hit. On Wednesday, the government had announced the procurement prices for these summer crops for 2014-15 would be 1-4 per cent higher than those last year.
But there was some comfort on water level in the country's 85 important reservoirs. At 38.02 billion cubic metres as on June 26, the water level was 25 per cent of these reservoirs' total live storage capacity.
"The storage position this year is better than last year and the average of the past 10 years," an official statement said. Except southern India, water level in reservoirs of almost all other parts of the country was better than last year.
On Friday, IMD said many parts of the country, barring western India, could get above-normal rainfall after a pick-up next month. "Monsoon revival is likely in many eastern parts and adjoining central and northern peninsular India from July 6, when above-normal rainfall is expected," the met department said in its weekly forecast.
Skymet, too, said rains would pick up in eastern and central India from next week. It advised farmers to start preparing for plantation and sowing of crops. The southwest monsoon season starts from June and ends in September.
In its second-stage forecast issued in June, IMD had said rains would be below-normal in India, at 93 per cent of long-period average (LPA), which was lower than the 95 per cent it forecast in April. Rainfall in the range of 96-104 per cent of LPA (the average of rainfall in the country in 50 years since 1951), is considered normal.
On the dreaded El Niño showing signs of receding, D S Pai, director of IMD's long-range forecast, told Business Standard: "As of now the sea-surface temperature (SST) in the Pacific ocean has weakened and there is no sign of it strengthening further. So, we are slightly optimistic that the impact of El Niño might not be as severe on Indian rains as was being thought of. Even if it does impact rain, it will be somewhere around August and September."
Similarly, Skymet, too, has not assessed much effect of the weather phenomenon so far. "We have not seen much impact of El Niño till now, but a final assessment will be done only around July," said Mahesh Palawat, chief meteorologist, Skymet.