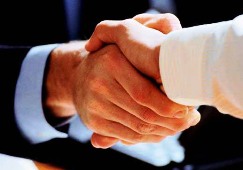 The much-awaited preferential trade agreement between India and Pakistan, that would seek to reduce duties on products of export interest of both countries, might not see light of the day till the latter grants most-favoured nation status to India.

While Pakistan has been showing considerable interest in having a bilateral trade deal with India that would help them access the country's booming markets, India has stated this can only become a possibility only when it recognises India as their non-discriminatory trading partner, commerce secretary Rahul Khullar told in an interview.

"After the grant of MFN status by Pakistan, it will be easier for us to get the necessary approvals from the Trade and Economic Relations Committee to initiate talks on having an exclusive trade pact with Pakistan.

"But for the time being, we have asked them to work towards the agreements reached under South Asian Association for Regional Cooperation," Khullar said.

The TERC, headed by Prime Minister Manmohan Singh, looks into various issues concerning promotion trade and bilateral relations with India.

According to the World Trade Organization rules, it is the fundamental right of a country to get MFN status from another member country.

Grant of MFN status by Pakistan would expand the number of products to be traded in positive list of commodities that are exported by India.

"Pakistan has to give India non-discriminatory status in trade and this is for the first time where there is clarity between trade and non-tariff barriers.

"They have agreed to the fact there is no link between MFN and non-tariff barriers,"
Khullar added.
This issue would also be raised during the next meeting between both commerce secretaries in November when Pakistan's Zafar Mahmood is expected to visit India to hold the talks, said senior officials in the Ministry of Commerce and Industry.
This would also mark the occasion when the Integrated Check Post on the Wagah-Attari border would become fully operational and trade on all items would take place.
The government has invested Rs 150 crore so far to build the 120-acre sprawling ICP.
Both countries are also expecting bilateral trade to touch double digits from $2 billion at present with the opening of this route that would be dedicated only for trade.
With the opening of this route, large containers would be allowed to ferry between both the countries from dawn to dusk compared to six hours at present.
This trade route would connect India to Pakistan's industrial hub of Gujranwala, Sialkot, Faisalabad and Lahore.
During the stock-taking meeting, Pakistan is also going to provide sector-specific list of non-tariff barriers soon to India. Pakistan had earlier said it faced non-tariff barriers mainly in sectors like textiles, cement, tobacco and chemicals.
A joint technical group on this issue is expected to meet next month to identify sector-specific barriers to trade and how to facilitate greater trade between the two countries.