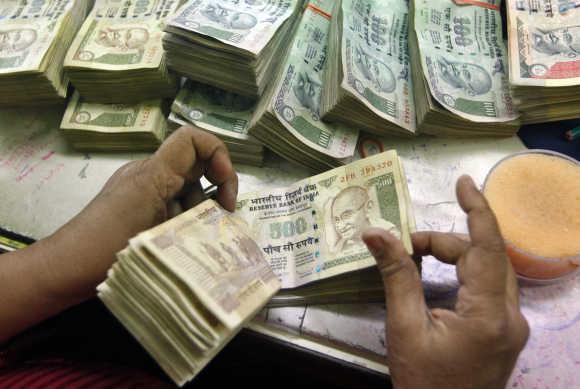 India Inc has an impressive report card to show for the first quarter of this financial year.
According to data compiled by CARE Ratings, 1,204 companies registered growth of 33.4 per cent at Rs 62,040 crore in net profit for the quarter.
This is against 8.8 per cent, at Rs 46,792 crore (Rs 467.92 billion), registered in the corresponding quarter of 2013-14.
The net profit margin rose from 9.5 per cent in the first quarter of FY14 to 11.3 per cent. Total net sales grew 12.8 per cent to Rs 554,426 crore against 4.8 per cent or Rs 491,689 last year this time.
"Some sectors like pharmaceuticals and information technology have been consistent performers and done distinctively well. This growth is also due to better performance of the economy," said Deven Choksey, managing director, KR Choksey Shares & Securities.
This week, India Ratings & Research, part of the Fitch Group, raised its 2014-15 gross domestic product (GDP) growth forecast to 5.7 per cent, from the 5.6 per cent it had forecast in April.
It added industrial GDP growth would improve to 5.1 per cent from the earlier estimate of 4.1 per cent. Industrial growth was a mere 0.4 per cent in 2013-14. The Index of Industrial Production (IIP) grew four per cent in April-May.
"Although it is still early to call it a trend, we believe this could be the beginning of a broad-based industrial recovery," said India Ratings.
The agency said it expected WPI (wholesale price index) as well as CPI (consumer price index) based inflation to decline to 5.4 per cent and 7.9 per cent, respectively, in 2014-15.
"We believe both revenue and disinvestment targets are optimistic. A large part of non-plan expenditure is of a committed nature and it is likely that the government will overshoot the budgeted targets," it said.
The current account deficit is estimated to widen to $48.7 billion (2.2 per cent of GDP), mainly due to the improved industrial growth outlook, which will boost imports. However, financing of the CAD might not prove challenging due to higher capital inflows, the agency said.
"In fact, we are expecting accretion to our foreign exchange reserves in 2014-15, which should lead to the rupee appreciating to 57-58 per US dollar by the end of 2014-15."
"We believe the economy has bottomed out and going forward, earnings would see a 15-plus per cent further growth," said Choksey.
Andrew Holland, chief executive, Ambit Investment Advisors, said he sees the earnings growth at 20-plus per cent.