Indian companies raised over $3.41 billion overseas in December through external commercial borrowings (ECBs) and foreign currency convertible bonds (FCCBs), the Reserve Bank of India (RBI) has said.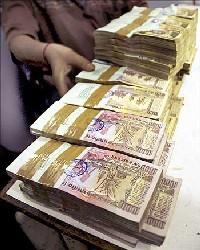 The total fund (debt) raising by India Inc in January-December 2010 was $23.82 billion, against 16.73 billion in the calendar year 2009.

Infotel Broadband, in which Reliance Industries Ltd holds over 90 per cent stake, raised $1 billion through ECBs to refinance rupee loans availed for paying fee for Broadband Wireless Access (BWA).

Government-owned Indian Oil Corporation garnered $500 million through ECBs to fund new projects. State-run National Thermal Power Corporation (NTPC) raised $300 million to finance capital goods.

Another state-owned company, Steel Authority of India Ltd, raised $200 million to carry out modernisation, according to RBI data.

Viedocon Industries raised $200 million through convertible debentures for overseas acquisition, while Sistema Shyam Teleservices Ltd raised $225 million for importing capital goods.

A senior Bank of India official said Indian companies with strong balance sheet and ratings were able to get fine rate in the global market.

The liquidity is high in markets as governments and central banks in developed countries have pumped in huge amounts to kick-start economies, still reeling under slowdown.

Vidarbha Industries Power Ltd raised $150 million via ECBs for local capital goods expenditure.

Also, Adani Power Ltd garnered $115 million via loans having a maturity of over 10 years for deployment in power sector.