With $3.35 billion (Rs 18,670 crore) worth of foreign bond offerings in the past month, Indian banks and companies are finally going ahead with their fund-raising plans after a long wait. In 2011, the total bond issuances in foreign currencies were about $9 billion, while the amount has already crossed $6 billion so far this year.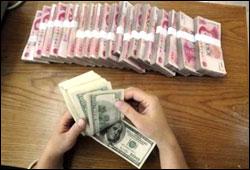 "If we look at the overall pricing and liquidity available in the overseas market, it is a good window for Indian entities to raise funds," said Sunil Agarwal, head (institutional client group for India), Deutsche Bank, which was one of the book runners for six of the 12 transactions that took place this year.
The yields on the US Treasuries that are used as a benchmark for pricing dollar-denominated bonds eased providing relief on overall pricing. For instance, State Bank of India [ Get Quote ] (SBI), which was the first one to break the lull, issued five-year dollar bonds of $1.25 billion at 4.125 per cent, which is 375 basis points (bps) over Treasury of comparable tenor.
The bank's previous dollar bond issue was at 4.5 per cent with a spread of 290 bps over the Treasury in July 2010. "Even though the spreads are higher compared to previous years' issuances, the fall in Treasuries have helped in lower overall pricing," said Agarwal.
"Spreads had widened substantially for Indian papers due to risk off sentiments post Greece debt crisis," said treasury head of a large public sector bank that concluded a dollar bond deal recently. However, spreads moderated to some extent though not substantially giving room for Indian issuers.
"The secondary credit spreads on Indian bonds have tightened post the global road show by SBI," said Manmohan Singh [ Images ], managing director and head-debt capital markets, RBS India.
Bankers said there is huge demand for credit abroad, but they were unable to raise funds for disbursement due to higher yields and spreads.
"Banks use these funds for financing client needs through external commercial borrowings," said Singh. Also, funds were being deployed to loans for new projects, said the treasury head.
According to merchant bankers, apart from banks like Bank of India, IDBI Bank and Bank of Baroda [ Get Quote ], public sector entities like Rural Electrification Corp, Power Finance Corp are also looking at raising funds via this route.
"This year, total overseas bond issuances are likely to surpass last year's issuances depending upon the credit demand from the Indian corporate bodies abroad and foreign investors' appetite for Indian papers," said Agarwal.
All the bond issuances since July 2012 were oversubscribed multiple times. Singh said the investor interest is reflected in book size for all these bond deals. Typically, bond issuances from Indian entities amount to $8-9 billion each year except for 2008 and 2009 when the issuances had dropped to $1.5-2 billion.