India did not yield any major ground on trade facilitation while it managed to successfully push its stand on food security issues through the WTO meeting in Bali, a top official said.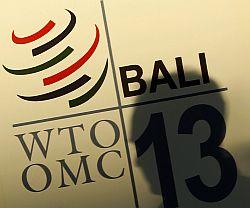 "India has concerns about taking binding commitments (in TFA), so our position was respected...about 80 per cent of what we wanted was adjusted and 20 per cent could not be adjusted," Special Secretary in the Commerce Ministry Rajiv Kher said dismissing concerns being raised by political parties and a few NGOs.

Main opposition party BJP, Left-supported farmer unions and NGOs like Gene Campaign have criticised the outcome of the Bali meet saying it has infringed on the sovereign right of a country to provide food security for poor people.

The Trade Facilitation Agreement (TFA) is aimed at freeing global trade from procedural hassles at the customs and reduce transactions cost. As per reports, it would boost global trade by $1 trillion.

Kher, one of India's key negotiators in WTO, said that in TFA, India has major concerns on three issues - release of goods by furnishing a bank guarantee; a time limitation for initiating a penalty proceedings and air courier.

On all these matters, he said the language
in the final text was diluted to accommodate the concerns of India.
"It (language) was brought down to best endeavour from binding commitment. For example, 'shall' gives a binding commitment and 'may' gives a best endeavour.... We found that in most of these issues, we have been adequately taken on board," he said.
Kher said most of the decisions of TFA have already been implemented by India and for a few "we have to make legal amendments at 2-3 places".
He clarified that the pact is also important for India as it envisages to improve infrastructure at ports and airports for enhancing trade.
"What is important is that whether we need that improvement at a pace which we choose. To answer these kinds of situations, the TFA has three categories of decisions," he added.
On the matter of public stock holding for food security, he said that the interim solution would be available till a permanent solution is achieved.
"The interim mechanism is available on existing schemes but once you have a permanent solution, such limitations is not there. So the focus is on achieving a permanent solution rather then sticking on to an interim mechanism," he said.
India has claimed a major victory at Bali ministerial conference with Commerce Minister Anand Sharma describing the outcome as historic.