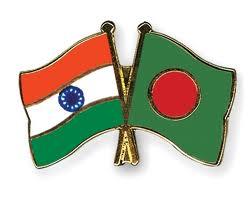 As several Indian ministers and secretaries from Delhi are about to visit Dhaka from January 28 till February 18, government officials of Dhaka are poised to sign some long-discussed crucial deals between the two neighbours.
The first of these visits will occur next week when Indian Home Minister Sushil Kumar Sambhajirao Shinde will land in Dhaka for a two-day visit on January 28 to meet his Bangladeshi counterpart Mohiuddin Khan Alamgir.
On January 24, Delhi approved the extradition treaty, that was proposed by Bangladesh,. The treaty, to be signed during Shinde's visit, will increase cooperation between the two governments to fight criminal activities and terrorism in both countries.
Shinde's visit is also going to strengthen cooperation between the two neighbouring countries in security and border management, hoped Bangladesh's foreign ministry officials last week.
Also, a new visa pact named revised travel arrangement is scheduled to be signed between Dhaka and Delhi during this visit. The visa, on the lines of the new visa regime between India and Pakistan, will remove restrictions on visit of each other's businesspersons, senior citizens above 65 years and children below 12 years.
The new visa agreement will also introduce a time frame for issuing non-diplomatic visa, additional entries for medical visa, group visa for tourists and extension of duration of the transit visa.
Also, the two home ministers are going to discuss cross-border movement of criminals and terrorists, border killings, exchange of prisoners languishing in jails after serving jail terms, border management, human trafficking, narcotics smuggling among other issues.
Next in line to visit Dhaka is Indian Power Secretary P Uma Shankar. On January 30, Shankar is scheduled to land in Dhaka on a two-day visit to strike a joint venture deal for setting up of 1,320 megawatt coal-fired power plant in Rampal of Bagerhaat district in Bangladesh.
Shankar will sign the deal for which a Memorandum of Understanding (MoU) for establishing the power plant was signed between the two countries on January 10, 2012.
Then, on February 9, Indian Foreign Secretary Ranjan Mathai will visit Dhaka for three days to join the Foreign Office Consultations (FOC) between India and Bangladesh. The last FOC was held in New Delhi on July 24 last year.
Acting foreign secretary of Bangladesh Shahidul Haque and the Indian foreign secretary will lead their respective sides in the meeting to review progress in bilateral cooperation in trade, connectivity, power, border management, infrastructure, water resources, security, culture, environment, education and people to people contacts, according to Bangladesh's foreign ministry sources.
Finally, from February 16 till 18, Indian external affairs minister Salman Khurshid will visit Dhaka to attend the second meeting of the India-Bangladesh Joint Consultative Commission (JCC), whose first meeting was held in New Delhi on May 7, last year.
Bangladeshi foreign ministry officials hoped last week that the ensuing visits would provide a useful opportunity to review the last four years' progress in bilateral relations and further strengthen cooperation in a wide spectrum of areas.

For Bangladesh, these areas would include killing along the border, signing of Teesta water sharing treaty, ratification of land boundary agreement, Tipaimukh project, power, and trade and investment for discussion with the ministers, while India's main agenda would be striking an extradition treaty, security and transit.
While talking about Khurshid's visit, Dr. Gowher Rizvi, international affairs adviser to Sheikh Hasina, was quoted by the Financial Express in Dhaka as saying that although Bangladesh government is yet to discuss the visit by the Indian minister formally, transit could be one of the discussion topics.
On transit, Rizvi said that infrastructure is still at limited capacity at major transit points with "Ashuganj" needing "a container port and also Akhaura-Agartala rail link under construction. The Indian government has already offered grant for the infrastructure," he said.
He added that the infrastructure will be developed step by step to make the transit facility operational. "The transit agreement is there. Now it will be made operational after infrastructure development," he added.