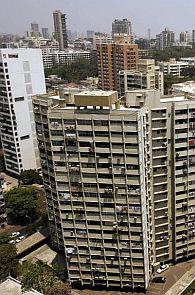 "Your own personal floors'' says an advertisement from a leading real estate developer for its new project in the National Capital Region (NCR).
That is not a solitary project luring customers with prized personal floors. In a trend that has taken off in a significant way, more and more developers are launching independent floors with lawns and basement/roof terraces in gated communities, to attract buyers, who otherwise opt for builder floors prevalent in the unorganised real estate sector.
Often, builder floors fall short when it comes to facilities such as power back-up, security, gym, sports space, community hall and club.
Among recent launches, Jaypee announced its project Udaan - The Personal Floors on the Yamuna Expressway in Greater Noida, Unitech announced Ivy Terraces in Gurgaon and Vatika announced its India Next project on the Dwarka Expressway. And the trend is not restricted to NCR only. Many realtors are doing it in Bangalore, Pune, Mumbai and other major cities.
Experts say this is the developer's alternative for people who love independent living and opt for builder floors. Builder floor apartments are popular in areas including Delhi-NCR, Chennai, Bangalore and Hyderabad among others. Also, luxury is a recession-proof segment. And, being a high- margin business, it offers enough incentives for developers to focus on this segment and come out with new models/designs in this space.
"It (independent luxury floors) is the next level after luxury apartments which has a huge market," says an executive with a leading developer, which is also planning to launch such a project in NCR.
Harinder Singh, managing director, Realistic Realtors, says, "The luxury market is evolving. This is a new concept which developers are coming out with since they have segmented luxury/premium into various categories. It's a niche market and there are enough takers for this segment."
But, he cautions that only right products with good location, design, facilities, convenience will be sold. "There is only space for good limited products. You can't overdo and kill the luxury market," Singh adds.
The data says it all. The new launches in the high-end segment, which are properties from above Rs 2 crore, have increased by almost 45 per cent in January-August this year at 12,601 units, compared to the same period last year with 8,665 units, according to data by real estate research firm PropEquity. Many such projects are priced between Rs 1 crore and Rs 2 crore, though it depends on the location. On the Yamuna Expressway, the prices are on the lower side.
Apart from independent floors, the new projects by developers boast of low density/low rise development. With high rise a common feature in NCR, this new concept is bound to create ripples in the consumer's mind, according to a Gurgaon-based broker tracking the sector.
"Going forward, luxury will have more weightage in a developer's portfolio, both in terms of number as well as value. NCR, Mumbai and Bangalore will continue to be luxury destinations because of HNIs and investors," he added.
RECENT LAUNCHES
JAYPEE - Udaan – The Personal Floors on the Yamuna Expressway in Greater Noida
UNITECH - Ivy Terraces in Gurgaon
VATIKA - India Next on the Dwarka Expressway