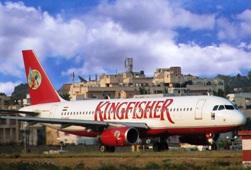 Industry body Assohcam on Monday suggested a bailout for the grounded Kingfisher Airlines following the government's decision to rescue the ailing national carrier Air India, saying there is no difference in the financial woes of both the airlines.

The suggestion comes within days of reports that LIC and the Employee Provident Fund Organisation snapped up the entire Rs 7,400-crore (Rs 74-billion) bond issue of the debt-ridden Air India.

"If Air India deserves to be given a bailout package, there is no reason why Kingfisher should be treated differently by banks and government organisations," Assocham Secretary General D S Rawat said in a statement.

Rawat's statement also comes days ahead of the November 30 deadline set by the bankers to the Kingfisher promoters to pump in fresh capital to the tune of $1 billion and table a comprehensive revival plan.

Sitting on a debt pile of over Rs 15,000 crore (Rs 150 billion), including Rs 7,000 crore (Rs 70 billion) bank loans and payments because of various vendors and tax authorities, Kingfisher has not been operating since October 1 following a strike by its pilots and engineers over the non-payment
of salaries.
Following the shutdown, the regulator Directorate General of Civil Aviation had suspended its flying licence on October 19.
"The circumstances under which both Air India and Kingfisher went down under are almost similar, largely emerging from demand slowdown, high cost of aviation fuel and other rising overhead costs," Rawat said.
However, some industry experts attribute the mounting losses and huge debt of the Vijay Mallya-owned Kingfisher to a flawed business model.
As far as Air India is concerned, some parliamentary panels have attributed it's financial woes to factors such as giving away its profitable routes to private carriers and a flawed aircraft acquisition policy for the carrier.
Of the Rs 7,400 crore (Rs 74-billion) issue, the Life Insurance Corporation of India has agreed to subscribe to Rs 3,000-crore (Rs 30-billion) worth of non-convertible bonds while the rest Rs 4,400 crore (Rs 44 billion) worth bonds will be subscribed to by the Employees' Provident Fund Organisation.
On its part, the government has announced Rs 30,000 crore (Rs 300 billion) bailout plan to revive Air India in April.