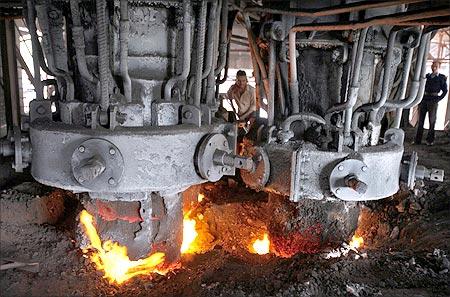 The economy may have grown 4.6 per cent in the second quarter of the fiscal driven by higher industrial growth and pick-up in exports, rating agency Icra said on Monday.
"The GDP growth would have improved to 4.6 per cent in Q2 from 4.4 per cent in Q1, with a pick-up in the performance of industry at around 2.3 per cent from 0.2 per cent and agriculture at near 3.5 per cent from 2.7 per cent, which could have offset the slowdown in the services sector," Icra said in a report.
The report said IIP numbers indicate a mild improvement in the performance of the manufacturing and mining and quarrying sectors in Q2 compared to the previous quarter.
"While investment activity remained muted and consumption confidence weakened, the performance of merchandise exports improved considerably in Q2 relative to Q1," it added.
Icra said surplus monsoon rainfall in 2013 has led to the replenishment of reservoirs and boosted hydel power generation, which contributed to a rise in the pace of growth of electricity generation to 8.4 per cent in Q2 from 3.5 per cent in Q1.
The pickup in growth of cement production in September is likely to reflect a build-up of inventory in anticipation of a revival in demand post the kharif harvest, and thus construction growth is likely to have been muted in Q2.
Icra senior economist Aditi Nayar said improved farm output, rural demand and healthy exports are expected to support economic growth in the remainder of the fiscal.
However, she said factors like weak investor and consumer confidence, lack of visible improvement in the pace of implementation of various projects, further likelihood of monetary tightening and anticipated expenditure cuts by the government will dampen growth.
For the full fiscal, Icra expect GDP growth to be 4.7-4.9 per cent. The report said the rupee fall has contributed to a healthy services trade surplus of near $18 billion in Q2.
However, it is possible that higher unofficial imports of gold may manifest in a decline in remittances, Icra said. Accordingly, Icra expects current account balance to record a small deficit of under $5 billion in Q2, relative to $21.8 billion in Q1.
Deutcshe Bank in a recent report has pegged Q2 GDP at 5.5 per cent, while Dun & Bradstreet pegged it at low 4.5 per cent.