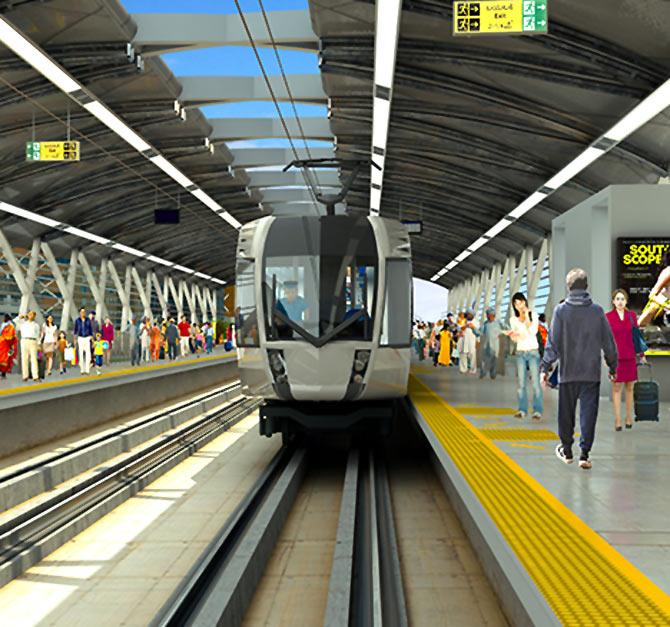 Hyderabad Metro has taken up a study to change the alignment of the rail track in order to avoid the Legislative Assembly building and Sultan Bazar stretch in Hyderabad, even as the realignment is expected to escalate the project cost by over Rs 300 crore (Rs 3 billion).
"It (diversion) is a slight change...Instead of (metro rail) going in front of Assembly...It can go from behind the Assembly. However, we are still working out on it. The government approval (on realignment) needs to come in this regard," said HMR Managing Director N V S Reddy.
"Our Chief Minister asked us to avoid Sultan Bazar stretch so we are working on alternate routes. The implications will be indicated to the government," Reddy said.
Telangana Chief Minister K Chandrasekhar Rao had earlier suggested that the project could consider realignment at two places where heritage sites are located -- Assembly and Sultan Bazar.
"We are studying it (on changing the alignments). The study will be completed in one month and a report will be submitted to the government. There will be some cost escalation. The cost escalation can be around Rs 300 to Rs 400 crore (Rs 3-4 billion). It has to be assessed. L&T will also have its own figures (on cost). That will be evaluated and on that basis they will be compensated," Reddy explained.
L&T Hyderabad Metro Rail Pvt Ltd is an L&T subsidiary, executing the metro project. The project cost was originally estimated at Rs 14,132 crore (Rs 141.32 billion).
Hyderabad Metro Rail is the biggest urban infrastructure project undertaken as a public-private partnership. The elevated Metro rail will cover a total distance of 72 km with three corridors comprising 66 stations.
By March 2015, stage one (eight kms stretch from Nagole to Mettuguda) will be operational for which test runs have already started.
He further said, "It is feasible...but there are implications. Whenever government takes a decision it has to take different factors into account. All those things will be taken into account and then a decision will be taken which will conveyed to L&T."