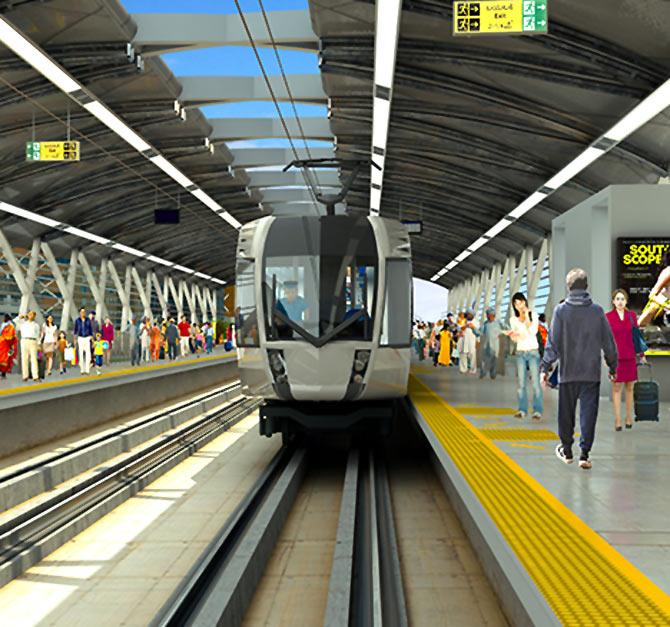 L&T Metro Rail Hyderabad Ltd, which is developing a 72-km elevated metro rail in Hyderabad, said the project is likely to see a cost escalation of between Rs 2,500 crore to Rs 3,000 crore (Rs 25-30 billion).
It also said it was yet to get any communication from Telangana government on changing the alignment of tracks to avoid Legislative Assembly building and Sultan Bazar.
"The project presently is in a very very critical mode. On account of delay in initial date and high interest rate... today we are looking at almost Rs 2,500 crore to Rs 3,000 crore escalation," said V B Gadgil, Chief Executive and Managing Director, L&T Metro Rail (Hyderabad).
"L&T has spent Rs 4,800 crore (Rs 48 billion) on the project so far, including about Rs 1,500 crore (Rs 15 billion) in equity. Interest rates are ruling high at 12.5 per cent. We are working on swapping high cost debt to cheaper debt of about Rs 1,000 crore (Rs 10 billion). It is in final discussion," Gadgil said.
L&T Hyderabad Metro Rail Pvt Ltd is an L&T subsidiary, which is developing the metro with an investment of Rs 14,132 crore (Rs 141.32 billion). The total cost is Rs 16,375 crore (Rs 163.75 billion), which includes Rs 14,132 crore (Rs 141.32 billion) for the metro rail system and another Rs 2,243 crore for the real estate development.
On Chief Minister K Chandrasekhar Rao's suggestion that the metro could consider realignment to avoid Assembly building and Sultan Bazar, Gadgil said, "We have no official communication on change of alignment so far."
"The project is at very precarious mode because in certain sections we have stopped the work for the last three months. Definitely it will have lot of impact. It may not be only the cost. We have to study the technical feasibility and on how much engineering we have to do re-work. Does it affect the work already which has done," he said.
"For such a mega project...there are always challenges...but we are trying to surpass with help of government and Hyderabad Metro Rail (HMR). Believe me this road is not smooth...But we are not afraid of that," he said.
The metro network will cover a total distance of 72 km across three corridors comprising 66 stations. Despite the hurdles, Gadgil said, all efforts are being made to ensure completion at the earliest.
HMR Managing Director N V S Reddy said, "The Chief Minister has given us directive to make some alignment changes in front of Assembly and at Sultan Bazar. He asked us to avoid these two places. We are making alternate arrangements. Technical feasibility is being worked out. Once technical feasibility is established, the government has to take different things into account whenever changes are made. Financial and legal implications have to be taken into account."
"After that government will take a considered view and once a decision is taken it will be communicated to L&T. It will be examined by an independent agency and they (L&T) will be paid (additional costs)," Reddy said, adding "it is a process that will take a month or so."
"Test runs are going on now for stage one. The trial runs hopefully will happen by December or January next year. By March 2015, stage one (eight km stretch from Nagole to Mettuguda) will be operational," Reddy said. The entire project is expected to be complete by 2017.
The average speed of the HMR will be 35 km per hour. To a question about advertisement revenue, Reddy said the concession agreement provides that it goes to L&T.

"Revenue will not be shared either with the government or GHMC (municipal corporation). We are discussing to sort out the issue....We have given L&T an assurance that the concession agreement will be honoured."