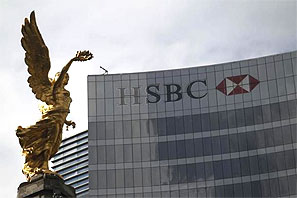 HSBC said there could be "choppy markets" this year as emerging markets adjust to changing economic circumstances after Europe's biggest bank reported a 9 percent rise in annual profit, falling short of analysts' expectations.
HSBC said on Monday it remained optimistic about the long-term prospects of emerging markets but said there could be increased volatility this year as adjustments are made to changing economic circumstances and sentiment.
Europe's largest bank reported a 2013 pretax profit of $22.6 billion, up from $20.6 billion in 2012, as operating expenses fell. HSBC had been expected to report a profit of $24.3 billion, based on the average forecast from analysts polled by Thomson Reuters .
HSBC said it increased its bonus pool for staff to $3.9 billion last year, up 6 per cent on the year, and paid 239 of its staff 1 million pounds ($1.7 million) or more.

Chief Executive Stuart Gulliver was paid $8 million in salary and bonuses last year, up from $7.5 million in 2012, which included deferred bonuses that have future performance conditions attached.