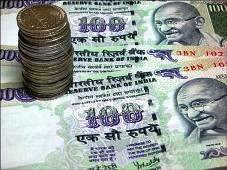 Rising for the fourth day, the rupee today appreciated by 24 paise to close at nearly 5-1/2-month high of 52.16 on sustained dollar selling by exporters and hefty capital inflows in local stock market.

At the Interbank Foreign Exchange (Forex) market, the rupee commenced lower at 52.52 a dollar from previous close of 52.40 and immediately touched a low of 52.57 on initial dollar demand from importers and strong US dollar overseas.

Later, it bounced back on continued dollar selling by exporters and some banks on hopes of fall in dollar overseas as it trimmed its early gains versus most global rivals.

FIIs pumped in over Rs 600 crore in stocks today that helped the rupee, said market participants.

Brokers said investors awaited ADP's private-sector job gauge, developments in Spain, and the first of three US presidential debates.

The dollar index was last quoting up by 0.12 per cent against a basket of currencies.

Riding on these positive factors, the rupee logged a high of 52.13 before concluding at 52.16, showing a rise of 24 paise or 0.45 per cent.

The currency has last seen this level in April 20, 2012 when it had settled at 52.08. Pramit Brahmbhatt, CEO, Alpari Financial Services (India) said: "Sustained capital inflows and exporter selling in anticipation of higher policy reforms
by government has been inducing strengths in rupee. A weaker stance by dollar index also strengthened its cause."
The rupee has risen in the past four days on positive data on CAD and BOP side, said forex dealers.
"The local market is seen consolidating at higher levels on back of the reforms announced by the government.
The focus of market would be on the upcoming Eurozone meeting on Monday, Moody's decision over Spain's credit rating and US Presidential polls next month," said Abhishek Goenka, Founder & CEO, India Forex Advisors.
Meanwhile, the Indian stock market benchmark Sensex was up by nearly 46 points, or 0.24 per cent, extending gains for the third straight session.
The premium for the forward dollar settled further weak on sustained receipts by exporters.
The benchmark six-month forward dollar premium payable in March eased to 161-162 paise from Monday's close of 162-164 paise.
The premium for far-forward contracts maturing in September softened to 302-304 paise from 305-307 paise.
The RBI has fixed the reference rate for the US dollar at 52.3345 and for euro at 67.4485.
The rupee remained firm for last few days against the pound sterling to end at 84.02 from Monday's close of 84.58 and hardened further against the Japanese yen to 66.67 from previous close of 67.19.
It improved against the euro to 67.33 from last close of 67.53.