The rupee gained 49 paiss on Thursday to end at over 4-1/2-month high of 53.02 against the US dollar on heavy selling of the American currency by exporters and some banks.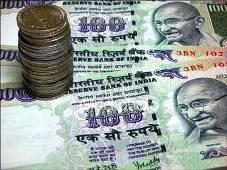 Forex dealers said dollar selling was so strong that some weakness in local equities and also in the US currency overseas did not have impact on rupee.

The local unit logged a low of 53.55 in early trade. However, heavy dollar selloff by exporters and some banks amid continuing signs of dollar inflows by foreign funds helped the rupee to bounce back to a high of 53.00 before settling at 53.02, showing a rise of 49 paise, or 0.92 per cent from its last close.

The rupee had concluded at 52.91 on May 7 this year. Meanwhile, the BSE benchmark Sensex today ended lower by 52.67 points, or 0.28 per cent, at 18,579.50.

"The positive domestic sentiments ruled the day, aiding sharp gains in rupee on active policy reforms agenda and government supportive supreme court verdict on auctions," Alpari Financial Services (India) CEO Pramit Brahmbhatt said.

Lack of major dollar buying by importers, mainly oil refiners, on hopes of further fall in oil prices overseas also aided the rupee sentiment, dealers said.

New York crude oil was trading just above USD 91 a barrel and Brent North Sea crude for November delivery was quoting below USD 111 a barrel.

The dollar index was slightly weak by 0.06 pct against a basket of six major global rivals ahead of the Spanish government's budget later in the day with a little bit of optimism.

The premium for the forward dollar fell back on fresh receipts by exporters. The benchmark six-month forward dollar premium payable in February finished weak at 141-143 paisa from Wednesday's close of 147-149 paisa.

The premium for far-forward contracts maturing in August also dipped to 290-292 paisa from 301-303 paisa.

The RBI has fixed the reference rate for the US dollar at 53.2550 and for euro at 68.6385.    The rupee strengthened further against the pound sterling to 85.91 from yesterday's close of 86.53 and also improved further against euro to 68.20 from 68.76.

It, however, bounced back against the Japanese yen to end at 68.25 per 100 yen from last close of 68.91.