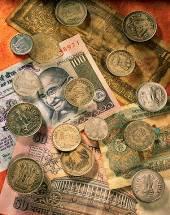 In lacklustre trade, the rupee on Monday depreciated for the second straight day to close 20 paise down at 53.01 on sustained dollar demand from importers.

At the Interbank Foreign Exchange market, the domestic currency resumed lower at 53.00 a dollar as against last Friday's close of 52.81.

Continued dollar demand from importers, mainly oil refiners, weighed on the rupee.

The New York crude oil was quoting above $92 a barrel in Europe.

The rupee moved in a narrow range between 52.91 and 53.15 amid WPI showing that inflation rose to its highest level this fiscal at 7.81 per cent in September, a development that may restrain RBI from cutting interest rates at its monetary policy later this month on October 30.

However, weakness in dollar overseas and continued capital inflows limited the rupee fall to some extent, dealers said.

Finally, rupee settled at 53.01, showing a fall of 20 paise or 0.37
per cent. Last Friday, it was down by 13 paise.
"The rupee was seen trading in a tight range of 25 paise.
The higher inflation figure would restrict the RBI to cut the interest rates in its next policy review on October 30," said Abhishek Goenka, Founder & CEO, India Forex Advisors.
The rupee is seen tracking back the international factors as we saw during the day that the strength in the Euro made the rupee to drift lower to 52.90 levels, he added.
However, the dollar index was down marginally against a basket of six major global rivals as investors awaited a meeting of European Union leaders later this week amid speculation of a Spanish bailout and help for Greece.
Meanwhile, the Indian stock market benchmark Sensex, which was down till afternoon session, recovered later and closed up by 38.37 points or 0.21 per cent after Europe opened higher.