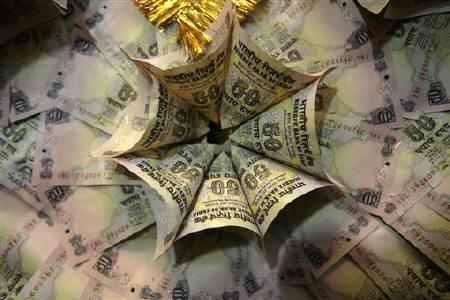 Tracking weak stock markets, rupee on Wednesday closed below the 53-level against the dollar, first time time in nearly two weeks, amid S&P threatening to downgrade India's sovereign credit rating to junk grade within 2 years.

After breaching the 53 mark in early trade, the rupee closed lower for the fourth straight day as it dropped 33 paise to 53.05 compared to previous close of 52.72.

At the Interbank Foreign Exchange (Forex) market, the local unit opened lower at 52.95 a dollar but showed some strength to recover to log a high of 52.85.

However, it soon fell back on persistent dollar demand and weak domestic stocks to a low of 53.18. The rupee concluded at 53.05, showing a fall of 33 paise or 0.62 per cent.

Dealers said a firm dollar overseas put pressure on the rupee even as continued capital
inflows failed to cap the rupee's recent fall.
"IMF has already downgraded the growth outlook and S&P has issued a fresh warning on India's credit rating.
"Over the near-term, we believe rupee could remain a play on the global factors and as a result, a range of 52.20-53.60 could unfold," said Anindya Banerjee, Currency Analyst, Kotak Securities.
The rupee had last closed above 53-level on September 27 but strengthened to 51-level. In the last four sessions, the rupee has fallen 133 paise or 3.5 per cent.
Like in the recent days, the dollar index was up by 0.10 per cent against a basket of six major global rivals to trade back over the 80 mark for the first time in a month.
Dealers said investors are once again showing a preference for so-called 'safe-haven assets' like dollar amid fresh worries over global growth and EU debt crisis. New York crude oil was trading above $92 a barrel in Europe today.