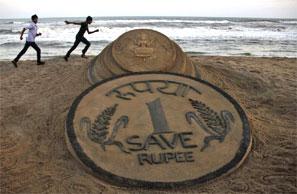 The rupee gained on Tuesday, a day after data showed a lower-than-expected current account deficit, while the dollar fell broadly following the first US government shutdown in 17 years.

Data late on Monday showed the current account deficit widened to $21.8 billion in the June quarter from $18.1 billion in the previous quarter, but still came in below economist estimates and is expected to ease further in the coming quarters on the back of falling gold imports and rising merchandise exports.

The improvement in the current account deficit is expected to provide a major reprieve to the government and the Reserve Bank of India which have been battling to prop up the rupee.

The currency plummeted as much as 20 per cent to 68.85 to the dollar in late August.

However, worries are resurfacing on the fiscal front with the deficit having reached nearly 75 per cent of the full fiscal-year target in April-August.

"The current account deficit numbers were lower than market expectations and have provided some support to the rupee.

"With state elections
coming up and then national polls, I think the focus will shift towards how the reforms process plays out," said Subramanian Sharma, director at Greenback Forex.
"The rupee may trade in a band for now before another bout of dollar buying emerges."
The partially convertible rupee closed at 62.46/47 per dollar compared with 62.60/61 on Monday after two sessions of losses.
The markets are closed on Wednesday for a national holiday.
Apart from domestic factors, sentiment was buoyed by the dollar's fall to a near eight-month low against a basket of currencies as the US government shutdown spooked markets.
Still, a continued uncertainty over the shutdown could weigh on risk assets such as the rupee given that US lawmakers face a more critical deadline for global markets in mid-October when the Congress would need to lift the debt ceiling.
In the offshore non-deliverable forwards, the one-month contract was at 63.06 while the three-month was at 64.17.
In the currency futures market, the most-traded near-month dollar/rupee contracts on the National Stock Exchange, the MCX-SX and the United Stock Exchange all closed at around 63.02 with a total traded volume of $1.95 billion.