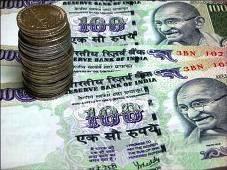 Tracking weak stock markets for the second straight day, the rupee today plunged by 39 paise to close at a two-month low of 54.75 dragged down by sustained dollar demand from importers and capital outflows.

Brokers said a weak trend in euro in overseas markets also dampened the rupee sentiment against the US dollar.

At the Interbank Foreign Exchange (Forex) market, the domestic currency commenced higher at 54.30 a dollar from overnight close of 54.36. It immediately touched a high of 54.27 on initial jump in local stocks.

However, the weakness in domestic equities after morning session and a sudden gust of dollar demand from importers and some banks dampened the rupee sentiment.

FIIs pulled out $37 million (Rs 204 crore) from stocks as per provisional data, putting the rupee under more pressure.

The rupee fell back to a low of 54.78, before closing slightly better at 54.75 --  a fall of 39 paise or 0.72
per cent.
This is the lowest closing level for the unit since sending at 55.43 on September 13.
On Thursday, rupee had lost 16 paise or 0.30 per cent, thereby losing 55 paise in two sessions.
The Indian stock market benchmark Sensex surrendered early gains to close sharply lower by nearly 163 points.
"The weakness in the Indian unit was due to weak Euro throughout the day.
"The Euro was pressurised by the Greece austerity concerns and Spain's delay in seeking a bailout.
"The gains in the dollar index led by better-than-expected data from the US, also made the rupee fall," said Abhishek Goenka, Founder and CEO, India Forex Advisors said.
Dealers said forex trading was tepid ahead of Diwali holidays with currency markets slated to remain closed on November 13-14.