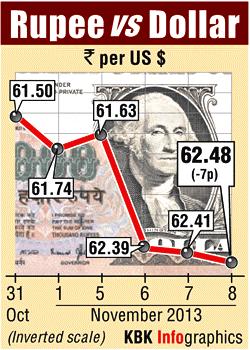 The rupee fell on Friday to post its worst week in 2-1/2 months, tracking a weaker euro after a surprise rate cut by the European Central Bank and as state-run oil refiners started sourcing dollars in spot markets.

State-run oil refiners are now meeting 30-40 per cent of their dollar needs in markets, Economic Affairs Secretary Arvind Mayaram was quoted as saying on Thursday by television channels, instead of the special window provided by the central bank.

Indian Oil Corp's finance director confirmed on Friday the state-run refiner was buying 'some' dollars from State Bank of India.

The partial tapering of the special window comes as investors gear up for the US monthly jobs report due later in the day as well as domestic inflation and industrial output data due next week.

"The recent strong data out of the US has brought back the tapering talk. With the year-end approaching, foreign investors will also be averse to putting on risk-on
trades," said Abhishek Goenka, chief executive at India Forex Advisors.
"The RBI's concessional swap facility will end in November and the oil window is also tapering. So the artificial support won't be there for rupee and it may weaken more from here on," he said.
The partially convertible rupee closed at 62.475/485 per dollar compared with 62.41/42 on Thursday.
It fell to an intra-day low of 62.75, its lowest since September 30.
The rupee recovered some losses on suspected central bank intervention in late trades, dealers said.
For the week, it fell 1.2 percent, a fourth consecutive weekly decline.
The rupee was also pressured as the euro fell for a second day on Friday, hurt by the European Central Bank's surprise interest rate cut and a downgrade to France's credit rating, while the dollar inched up before a key US jobs report.
In the offshore non-deliverable forwards, the one-month contract was at 63.20, while the three-month was at 64.27.