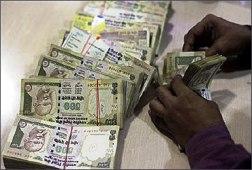 Falling for the fifth day in a row, the rupee on Monday lost 22 paise to end at 55.73 against the US dollar due to sustained demand for the American currency from importers and banks.

Forex dealers said the dollar demand was so strong that even sustained capital inflows amid stable dollar overseas and positive local equities could not stem the rupee's fall.

The local unit commenced better at 55.45 a dollar from last Friday's close of 55.51 and immediately touched a high of 55.42 on the back of firm local stocks.

However, month-end dollar demand from oil importers and some banks later weighed on the rupee and it fell to a low of 55.89 before closing the day at 55.73, a fall of 22 paise, or 0.40 per cent.

Treasury managers at banks said there was no sign of intervention by the Reserve Bank on Monday even as the local currency is moving fast to 56-level.

They added that RBI intervention is very much likely if the rupee falls below 56-level on Tuesday.

"The rupee continued its weakening spree after the political logjam continued for the third straight session as the government is lacking clear mandate to go ahead with the set of financial and non-financial policy reforms," Alpari Financial Services (India)
CEO Pramit Brahmbhatt said.
He said the forex market is eagerly awaiting the second quarter gross domestic product numbers, expected on Friday.
The dollar index was trading almost flat against a basket of currencies as Europe's debt problems garnered renewed attention, with euro zone finance ministers set to reconvene later in the global trading day.
"The correction in dollar index was not accompanied by a correction in rupee.
"This seems to be a matter of concern as a recovery in the euro and weak dollar index fails to help rupee," said Abhishek Goenka, Founder and CEO, India Forex Advisors.
The premium for the forward dollar ended mixed on Monday.
The benchmark six-month forward dollar premium payable in April softened to 140-141 paise from last Friday's close of 141-142 paise.
However, Far-forward contracts maturing in October closed better at 283-285 paise from 280-1/2-282-1/2 paise.
The RBI has fixed the reference rate for the US dollar at 55.6920 and for euro at 72.1005.
The rupee remained sluggish against the pound sterling to end at 89.31 from last weekend's close of 88.48 and also dipped further to 72.25 per euro from 71.61.
It too moved down further against the Japanese yen to 67.83 per 100 yen from last close of 67.49.