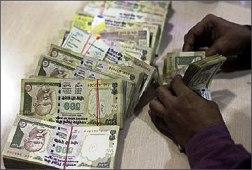 Tracking stock markets, the rupee on Tuesday surrendered all of its early gains to decline by four paise at 55.10 amid fresh dollar demand from importers and some banks.

However, a weak dollar overseas amid sustained capital inflows capped the rupee fall to some extent, dealers said.

At the Interbank Foreign Exchange (Forex) market, the domestic unit opened remarkably higher at 54.81 a dollar from overnight close of 55.06.

It immediately touched a high of 54.79 on early rise in local equities and sustained dollar selling by exporters.

A sluggish trend in the US dollar overseas also boosted the rupee sentiment in early stages, said traders.

However, the rupee turned negative and fell sharply to a low of 55.14 before concluding at 55.10, a fall of four paise.

On Monday, it rose by 10 paise or 0.18 per cent.

The Indian stock market benchmark Sensex, which was up by nearly 129 points at initial stages, closed down by 9.68
points in volatile trading on Tuesday.
FIIs pumped in USD 124.83 million yesterday as per Sebi data.
The dollar index was down by 0.20 per cent against a basket of six major rivals despite fall in euro after Moody's downgraded France's AAA credit rating while New York crude oil was trading above USD 89 a barrel in Europe on Tuesday.
"The early gains in the rupee were on account of on sustained selling of dollars by banks and exporters on the back of a weak dollar in the overseas market.
Later, it started weakening against the dollar and moved below 55.00 levels, " said Abhishek Goenka, Founder and CEO, India Forex Advisors.
The Reserve Bank will intervene in the forex market only to curb excessive volatility in exchange rate but stated there is no target set for rupee, deputy governor Subir Gokarn said on Monday.