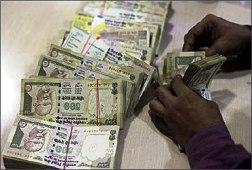 Snapping a three-day string of losses, the rupee on Thursday closed 18 paise higher at 54.70 on fag-end dollar sales by banks amid recovery in euro inoverseas markets.

At the Interbank Foreign Exchange market, the domestic unit resumed lower at 54.98 a dollar from Monday's close of 54.88.

Rupee quickly dropped further to a low of 55.08 on weakness in local equities and emergence of dollar demand from importers, mainly oil refiners.

However, late dollar sales by banks on behalf of their clients, helped the rupee bounce back to a high of 54.69, before concluding slightly better at 54.70 -- a gain of 18 paise or 0.33 per cent.

In past three trading sessions, rupee had fallen by 68 paise or 1.25 per cent.

"While the rupee was weak in the early stages due to dollar demand and weakness in Indian stocks, it recovered later on account of dollar sales and euro gains," said Dhanlaxmi Bank Executive Vice-President (Treasury) Srinivasa Raghavan.

The Euro staged a partial recovery after hitting 2-month lows and the dollar index was quoting 0.01 per cent against a basket of six major global rivals in the overseas market.

Pramit Brahmbhatt, CEO, Alpari Financial Services (India) said:
"Rupee witnessed a volatile session after a long holiday on alternate selling and buying.
"The sharp drop in WPI numbers to a eight-month low has also raised the rate cut expectations from RBI in its upcoming meet on December 18."
Dollar index was seen trading in a thin range ahead of unemployment claims and Fed Chairman Bernanke speech later on Thursday, said Abhishek Goenka, Founder & CEO, India Forex Advisors.
Any indication of further easing by Fed will make dollar index erase gains that will provide a temporary support to rupee, he added.
The premium for the forward dollar continued to rule on persistent receipts by exporters.
The benchmark six-month forward dollar premium payable in April dropped to 144-146 paise from Monday's close of 149-1/2- 151-1/2 paise.
Far-forward contracts maturing in October also dipped to 281-283 paise from 287-289 paise.
The RBI has fixed the reference rate for the US dollar at 54.9590 and for euro at 70.0345.
The rupee improved further against the pound sterling to 86.72 from last close of 87.16. It also zoomed further against the Japanese yen to 67.41 per 100 yen from 69.08.
The rupee, however, recovered slightly against the euro to 67.41 from previous close of 69.83.