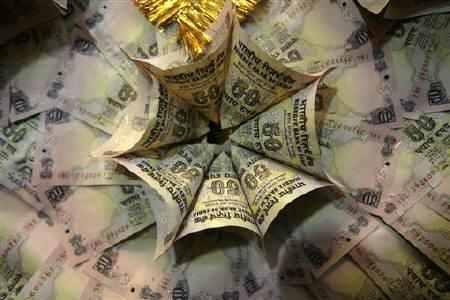 Falling for the third straight session, the rupee today closed at a fresh two-month low of 54.88, down 13 paise, after falling below the key 55-level on poor industrial production data, record-high trade deficit and sticky retail-level inflation.
Sustained demand of the American currency from importers, some weakness in local equities amid fresh capital outflows also weighed on the rupee, forex brokers said.
At the Interbank Foreign Exchange (Forex) market, the domestic unit resumed better at 54.68 a dollar from last Friday's close of 54.75 and immediately touched a high of 54.61 on initial firm trend in local stock market.
However, an unexpected 2.5 per cent fall in Index of Industrial Production (IIP) data for September, rise in retail inflation to 9.75 per cent and record-high trade deficit at $20.96 billion in October pulled the rupee to a low of 55.12 as dollar demand surged.
However, with the dollar index  quoting lower by 0.10 per cent against a basket of currencies, the rupee recovered some ground to end at 54.88, still showing a loss of 13 paise or 0.24 per cent over Friday's close.
"Poor economic indicators led to the depreciation of rupee against dollar. Weaker-than-expected IIP and widening trade deficit contributed to the rupee moving to the 55-levels," said Abhishek Goenka, Founder & CEO, India Forex Advisors.
New York crude oil was trading around USD 85.5 a barrel in European market today. Pramit Brahmbhatt, CEO, Alpari Financial Services (India) said,"The October exports were just half of the total imports last month, which also weighed on the rupee."
India's exports in October contracted 1.63 per cent for the sixth month in a row to USD 23.2 billion while imports grew by 7.37 per cent to USD 44.2 billion.
Meanwhile, the Indian stock market benchmark Sensex today ended the Samvat year 2068 on a slightly bearish note, down 13.34 points at 18,670.34.  The premium for the forward dollar remained weak on consistent receipts by exporters.
The benchmark six-month forward dollar premium payable in April declined to 149-1/2-151-1/2 paise from 153-155 paise last Friday.
Far-forward contracts maturing in October also settled weak at 287-289 paise from 292-294 paise. The RBI has fixed the reference rate for the US dollar at 54.9340 and for euro at 69.9335.
The rupee recovered against the pound sterling to end at 87.16 from previous close of 87.33. It also edged up against the Japanese yen to 69.08 per 100 yen from 69.09.
The rupee, however, dropped further against the euro to 69.83 from last close of 69.61.