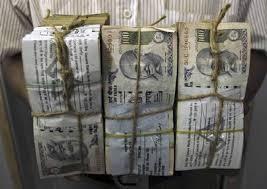 The rupee dropped to a three-week low on Friday while also posting its biggest weekly fall in two months as a sharp sell-off in the euro and broad rally in the greenback hurt amid the absence of any fresh domestic triggers.

The euro fell to a two-week low against the dollar on Friday, extending losses into a fifth straight session as slowing euro zone inflation bolstered expectations of looser monetary policy from the European Central Bank.

The rupee which has been relatively stable over the last couple of months after having seen as much as 20 percent fall to a record low in late August has been boosted mainly by robust foreign fund inflows into the stock market.

Foreign funds have bought $16.5 billion worth of shares so far this year.

The BSE Sensex surged to a record high as blue chips rallied on the back of strong foreign
buying.
"The huge fall in the euro and a rally in the dollar index have pushed the rupee down today, but 62 is a psychological level which will be a key," said Paresh Nayar, head of foreign exchange and debt trading at First Bank Bank.
"The 61.20 support should hold for next week as well, but the overall range could be wider," he added.
The partially convertible rupee closed at 61.74/75 per dollar compared with 61.50/51 on Thursday.
Financial markets will remain closed on Monday for a local holiday.
On the week, the rupee fell 0.5 percent, its biggest weekly fall since the last week of August.
The index of the dollar against six major currencies was up 0.4 per cent.
Traders will monitor developments on the global front for near-term cues as there is no data or event due on the domestic front.
In the offshore non-deliverable forwards, the one-month contract was at 61.36, while the three-month was at 63.38.