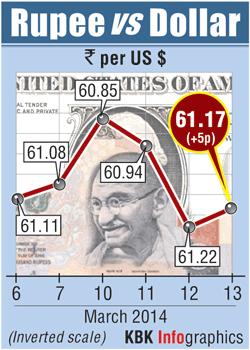 The Indian rupee rose slightly on Thursday, snapping a two-day losing streak, as a sharper-than-expected fall in retail inflation and a slight expansion in industrial output reinforced optimism the domestic economy was on the mend.
Data late on Wednesday showed consumer price inflation eased more than-expected to a 25-month low of 8.10 per cent in February, while industrial output unexpectedly expanded, albeit only by 0.1 per cent.
The data cemented confidence about the economy, especially on the back of a sharply narrowing current account deficit, and raised expectations the Reserve Bank of India would keep interest rates on hold at its policy review on April 1.
Still, broader gains were capped as much of the positive news is seen to be priced in, given the rupee is trading at around seven-month highs, while traders preferred to wait and watch ahead of wholesale price inflation data, due on Friday.
"Rupee opened stronger tracking Asians and the retail inflation data but later there was good dollar buying seen from across segments.
"There was likely some defence buying too," said Hari Chandramgethen, head of foreign exchange trading at South Indian Bank.
"The rupee is likely to hold in a 60.60 to 61.75 range in the near-term," he added.
The partially convertible rupee closed at 61.17/18 per dollar compared to 61.2150/2250 on Wednesday. It moved in a range of 60.91 to 61.19 during the session.
Broader gains were also kept in check on the back of good dollar demand from oil importers and from state-run banks, likely for defence-related payments by the government.
Meanwhile, Indian shares fell on Thursday as Infosys Ltd slumped after its chairman said revenue could grow at the lower end of guidance for this fiscal year, while Sun Pharmaceutical Industries Ltd dropped after a U.S. ban on some of the drug-maker's imports.
In the offshore non-deliverable forwards, the one-month contract was at 61.58 while the three-month was at 62.25.