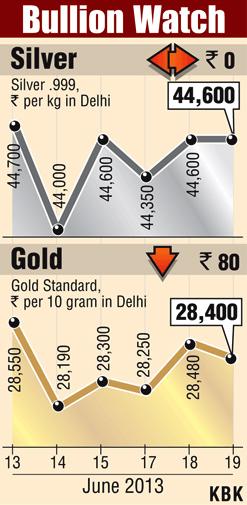 Erasing early losses, rupee on Wednesday ended 6 paise higher at 58.70 -- its first gain in three days -- on recovery in local stocks and fresh dollar selling by exporters ahead of the outcome of US Fed policy meet.

However, FII outflows of Rs 545 crore (Rs 5.45 billion) capped the gains in the rupee, which had slumped by 126 paise in past two days.

At the Interbank Foreign Exchange (Forex) market, the domestic unit commenced better at 58.74 a dollar from previous close of 58.77, which is its all-time low on a closing basis.

However, in a session marked with volatility the rupee moved erratically in a range of 58.61 and 58.91 against the US dollar.

It ended at 58.70, a rise of 7 paise or 0.12 per cent.

"It was a usual day for rupee but it ended in the positive zone. No signs of RBI intervention were seen.

"The Fed meeting details will be available only around midnight and that will shape tomorrow's
movements," said Ashtosh Raina, Head of Forex Trading, HDFC Bank.
Traders are hoping Fed Chairman Ben Bernanke will continue with the plan to buy $45 billion in treasuries and $40 billion in mortgage-backed securities each month.
However, any signal that Fed plans to taper off the purchases will impact inflows into emerging market assets, they added.
"Huge debt outflows from the Indian markets have led to weakness in the rupee since last one month.
"Along with the rupee, all the other emerging nations' currencies are seen weakening against the US dollar amid increased uncertainty over Fed's decision regarding tapering the QE," said Abhishek Goenka, Founder & CEO, India Forex Advisors.
The dollar index, a gauge of six major global rivals, was down by 0.06 per cent.
Pramit Brahmbhatt, CEO, Alpari Financial Services (India) said: "Expect rupee to trade volatile tomorrow as outcome of the FOMC meet will have major impact on the currency.
"The trading range for the Spot USD/INR pair is expected to be within 58.30 to 59.10."