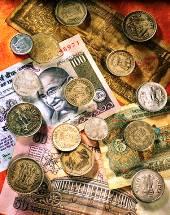 Snapping four days of straight gains, the rupee on Wednesday weakened by 11 paise to close at 54.49 against the dollar after climbing to 54.18 during early trade -- its highest in nearly 7 weeks-- on fresh demand of the US currency from importers.

At the Interbank Foreign Exchange (Forex) market, the domestic currency opened slightly lower at 54.40 a dollar from its overnight close of 54.38. Later, the rupee moved in line with local equities in a range of 54.18-54.86 before closing down at 54.49.

A firm dollar overseas also weighed on the rupee sentiment with the Euro declining 0.3 per cent to $1.257 but inflows restricted rupee's fall to some extent.

FIIs pumped in Rs 239 crore (Rs 2.39 billion) in shares, according to provisional data from BSE.

Forex dealers also said possible removal of withholding tax on bond holding by foreign investors supported the currency during Wednesday's session.

"In the past few trading sessions, rupee has appreciated much. So, those people who were not part of the rally, are now doing bargain-buying to an extent," said Hemal Doshi, currency strategist, Geojit Comtrade.

Reserve Bank Deputy Governor Subir Gokarn in Chennai said on Wednesday the central bank's liquidity management operations are unrelated to exchange rate movements.

"I do not think you directly co-relate the rupee movement with the open market operations). OMOs are being driven by judgements on liquidity conditions," he said.

Experts said the rupee will take cue from the bond auction results for FIIs, which will determine the direction of rupee in the near-term.

"By September, rupee should recoup to 53 level," said N S Venkatesh, Head of Treasury, IDBI Bank.

Meanwhile, the Indian stock market benchmark Sensex on Wednesday ended up by over 37 points or 0.21 pct to its highest closing in nearly 11 weeks.

Globally, the dollar index, consisting of six major currencies, was up by 0.16 per cent on the back of the US currency's new found strength against most rivals.

Pramit Brahmbhatt, CEO, Alpari Financial Services (India [ Images ]) said, "International sentiments ruled towards the end as we saw dollar index edging higher above the 82 levels."

He added that the spate of weak global PMI numbers recently may encourage the RBI to ease rates to stimulate growth in the Indian economy.

"The slowing of Chinese economy has been a matter of concern. The rate cut ECB hopes and further easing also appear dented," said Brahmbhatt.

Forex experts said importers should cover their exposure against the dollar.

"For the short-term, we can say rupee has a made a low of 57.31 against the dollar.

"However, importers should cover their exposure on dips as US dollar can pull back any time soon on global uncertainties," said Abhishek Goenka, Founder and CEO, India Forex Advisors.

The premium for the forward dollar dropped further on sustained receivings by exporters.

The benchmark six-month forward dollar premium payable in December moved down further to 173-175 paise from Wednesday's close of 178-180 paise.

The premium for far-forward contracts maturing in June also dipped to 312-1/2-314-1/2 paise from 323-325 paise previously.

The RBI fixed the reference rate for the dollar at 54.5525 and for Euro at 68.7020.

The rupee improved further against the pound sterling to 85.28 from the overnight close of 85.31 while the rupee fell back slightly to 68.50 per euro from 68.46 previously.

The rupee also declined against the Japanese yen to 68.27 per 100 yen from the last close of 68.15.
Share your ideas on how the rupee can be saved. See what others have to say.