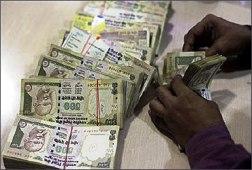 The rupee on Friday recorded its biggest slump in two months by plunging 57 paise to end at 55.07 on massive demand of the US currency from oil firms, amid dollar gaining strength on speculation that some US Fed officials are not in favour of continuing the bond-buying plan.

At the Interbank Foreign Exchange market, the local currency commenced lower at 54.82 a dollar from previous close of 54.50 and immediately touched a high of 54.76.

However, it started falling soon and logged an intra-day low of 55.17 before closing slightly better at one-month closing low of 55.07 -- a fall of 0.57 paise or 1.05 per cent.

Today's fall was the biggest in last two months after it had plunged by 80 paise or 1.49 per cent on November 5, 2012.

Continued dollar demand from importers and some banks on hopes of further rise in dollar value overseas put the rupee under pressure,
said forex traders.
The rupee was unable to stage a turnaround even as FIIs pumped nearly Rs 1,200 crore (Rs 12 billion) in Indian stocks, they added.
The dollar index rose by 0.36 per cent ahead of December nonfarm payrolls data due later in the day, and after reports said minutes of the Federal Reserve's last meeting showed its members were considering an end to asset purchases this year.
"The thought of end to asset purchase came as a big surprise to the markets, which helped the dollar rebound drastically," said Abhishek Goenka, Founder & CEO, India Forex Advisors.
The Fed's bond buying plan pumps dollars in the market and hopes of an earlier-than-expected end to the plan would ease the supply of the US currency, experts said.
Pramit Brahmbhatt, CEO, Alpari Financial Services (India) said,"The rupee extended its weakening spree for the second straight session on sharp rise in dollar index and weaker tone of global equity markets."