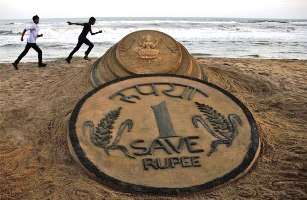 The rupee weakened slightly to a two-week low on Thursday as importers stepped in to buy dollars ahead of the end of the month amid rising uncertainty before a key Reserve Bank of India policy review next week.

The rupee has avoided the heavy losses suffered by some emerging Asian currencies such as the Philippine peso this year because of its efforts to narrow the current account deficit, and strong foreign investor inflows.

However, the market is mired in a new uncertainty by the prospect of a period of sustained high interest rates after a RBI panel recommended on Tuesday making taming high inflation a priority.

That would help contain inflation but raise concerns about economic growth in the near term. Trading is expected to be rangebound until the RBI's policy review on Tuesday.

Although analysts had previously expected the central bank to remain on hold, the recommendation to focus on consumer inflation is raising the prospect of a rate hike.

"The rupee has been fairly rangebound today with some month-end
dollar demand from importers seen.
"Policy will be the next key trigger. Until then, I expect a range of 61.80 to 62.20 to hold," said Hari Chandramgethen, head of foreign exchange trading at South Indian Bank.
"Debt inflows have lost momentum but are expected to continue for some more time," he added.
The partially convertible rupee closed at 61.9275/9375 per dollar compared with its Wednesday close of 61.8150/8250, marking its lowest close since January 9.
Dollar purchases were seen during the session from oil importers, while a large state-run bank was also a buyer, which dealers attributed to meeting defence-related needs.
Broadly, the dollar gained against Asian emerging market currencies as worries about a slowing Chinese economy deepened and as investors braced for a further cut in stimulus by the US Federal Reserve.
In the offshore non-deliverable forwards, the one-month contract was at 62.41 while the three-month was at 63.23.
(Additional reporting by Swati Bhat)