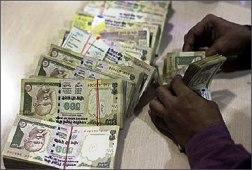 Snapping its three-day upmove, the rupee on Friday depreciated by 19 paise to close at 54.76 against the US dollar on weak industrial production data and rising trade deficit due to fall in exports.

Better dollar overseas also weighed on the rupee while consistent foreign funds inflow in stocks restricted the fall to some extent, said forex dealers.

At the Interbank Foreign Exchange market, the local unit commenced strong at 54.40, which was also to be the day's high, as against previous close of 54.57.

This initial buoyancy was on the back of strong equities at initial stages on better-than-expected third quarter results by Infosys.

The rupee, however, later fell back in line with domestic stocks following steep fall in industrial production data and rise in trade deficit to touch a low of 54.84. It ended at 54.76, showing a fall of 19 paise or 0.25 per cent.

In last 3 days, it had gained 66 paise or 1.20 per cent.

"Rupee was seen depreciating against dollar today after weaker November IIP figures came out at -0.1 per cent.

Since last two-three sessions, rupee was gaining on account of flows in the markets and dollar index weakening internationally," said Abhishek Goenka, Founder &
CEO, India Forex Advisors. The dollar index, a gauge of six major global currencies, was up by 0.03 per cent in late trades.
India's exports contracted by 1.9 per cent in December to $24.88 billion, down for the eighth month in a row due to demand slowdown in the US and Europe.
Trade deficit, which represents an outflow of domestic currency, stood at $17.6 billion.
Foreign Institutional Investors pumped in Rs 249.50 crore yesterday, as per provisional data with bourses.
The premium for the forward dollar declined further on sustained receipts by exporters.
The benchmark six-month forward dollar premium payable in June ended weak at 164-166 paise from Thursday's close of 166-168 paise.
Far-forward contracts maturing in December also eased to 314-316 paise from 315-317 paise.
The RBI has fixed the reference rate for the US dollar at 54.5390 and for euro at 72.2945.
The rupee fell back against the pound sterling to 88.23 from overnight close of 87.62 while tumbled further to 72.61 per euro from 71.52.
It, however, remained firm against the Japanese yen to 61.65 per 100 yen from last close of 61.90.