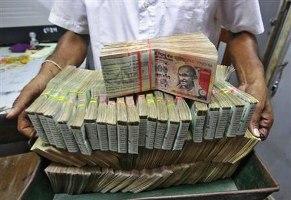 The rupee strengthened to its highest against the dollar in more than a week on Friday on bets that data will show an improving economy and faltering inflation, boosting confidence in the country's outlook.

India is due to post industrial output later in the day, with analysts expecting a return to modest growth, and is due to post wholesale and consumer prices data next week amid expectations vegetable prices have eased.

That is helping raise confidence about the economy, thus supporting foreign inflows and domestic shares, both key factors for the rupee.

Data showing India's trade deficit widened to $10.14 billion in December compared with $9.22 in November had little impact given it came within expectations.


"The market is expecting good factory output numbers and lower inflation. I think the rupee will continue to trade in a 61.50 to 62.50 range next week," said Uday Bhatt, a foreign exchange dealer with UCO Bank.
"If inflation data is better than expectations and rupee breaks 61.80 levels strongly then it could head towards 61.40 but I don't see it breaching 61 soon," he said.
The partially convertible rupee closed at 61.89/90 per dollar compared with 62.07/08 on Thursday. The unit rose as high as 61.83, its strongest since January 2.
The Sensex provisionally edged up on Friday after touching its highest intraday level in nearly a week as software services exporters rose after Infosys Ltd's quarterly earnings beat market expectations.
In the offshore non-deliverable forwards, the one-month contract was at 62.27 while the three-month was at 63.07.