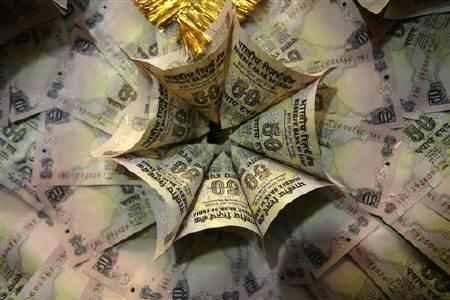 Falling for the second day, the rupee on Thursday weakened by 14 paise to close at 54.46 tracking losses in Indian stocks amid sustained dollar demand from importers.
A firm US dollar overseas after the Federal Reserve's decision to expand monetary stimulus also weighed on the rupee while continued FII inflows worth $230 million in stocks restricted the fall to 14 paise, forex dealers said.
At the Interbank Foreign Exchange (Forex) market, the rupee commenced strong at 54.15 a dollar against last close of 54.32. It immediately touched a high of 54.10 on early rise in equities and fresh dollar selling by exporters.
However, the rupee fell back on weakness in local stocks and dollar demand from importers, mainly oil refiners, to a low of 54.52. It finally settled for the day at 54.46, showing a fall of 14 paise or 0.26 per cent. On Wednesday, it was down by six paise or 0.11 per cent.
Pramit Brahmbhatt, CEO, Alpari Financial Services (India) said: "The rupee reversed the initial gains on dollar buying by oil importers and defence related payments. The weaker tone of domestic equity markets also weighed on rupee after the index heavy weights shed some of their recent gains."
Meanwhile, the Indian stock market benchmark Sensex today closed down by 126 points or 0.65 per cent, completing a five sessions of losses.
The dollar index, a gauge of six major global rivals, was up by 0.15 per cent in Europe today.
"Initial gains in rupee were supported by dollar index sustaining below 80.00 and Euro sustaining above $1.30 levels.
"However, later we saw rupee depreciating till the level of 54.52 as Euro started weakening ahead of the EU summit and also on account of FCCB redemptions" said Abhishek Goenka, Founder and CEO, India Forex Advisors.
The premium for the forward dollar moved down further on sustained receipts by exporters.
The benchmark six-month forward dollar premium payable in May declined to 166-1/2-168 paise from Wednesday's close of 168-1/2-170-1/2 paise.
Far-forward contracts maturing in November also softened to 314-316 paise from 316-318 paise. The RBI has fixed the reference rate for the US dollar at 54.2320 and for euro at 70.9440.
The rupee eased further against the pound sterling to end at 87.77 from previous close of 87.69 and remained weak against the euro to 71.07 from 70.75.
It, however, improved further against the Japanese yen to 65.30 per 100 yen from overnight close of 65.59.