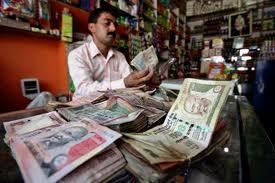 The Indian rupee edged higher on Tuesday as gains in the euro and lower demand for dollars from oil firms helped offset falls in domestic shares as the impact of the strong showing by the key opposition party in state elections started to fade.

Traders are now focussed on the upcoming November trade data, due sometime this week, for near-term direction, with consumer inflation data due out on Thursday, which will help set expectations ahead of the Reserve Bank of India's policy review on December 18.

The central bank has raised interest rates by a total of 50 basis points over September and October despite slowing economic growth.

Although such rate hikes are traditionally considered positive for currencies, in India the impact on the rupee can be muted by denting sentiment about the economic outlook.

"The rupee should continue to remain range-bound in the near-term.

"There is good buying coming in at sub-61
levels from all counters including oil, ECB hedging as also other regular demand," said Ashtosh Raina, head of foreign exchange trading at HDFC Bank.
"The rupee should stay between 61 and 62 levels until the policy review," he added.
The partially convertible rupee closed at 61.04/05 per dollar compared to 61.13/14 on Monday.
The unit moved in a range of 60.97 to 61.2950 during the day.
Gains tracked a stronger euro, which hit a five-year peak against the yen and a six-week high against the dollar on Tuesday, as expectations for further near-term stimulus from the European Central Bank faded.
Some of the recent large dollar demand from state-run oil firms also faded late in the session allowing the rupee to recover some ground.
The rupee gained even as shares retreated from record highs hit on Monday as investors booked profits in blue chips.
In the offshore non-deliverable forwards, the one-month contract was at 61.44 while the three-month was at 62.31.