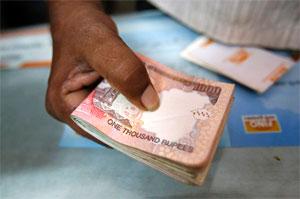 The rupee rose on Tuesday, tracking gains in other Asian currencies, although broader gains were curbed by concerns about the wider economic impact after the country's top court ruled coal blocks awarded since 1993 were illegal.
Analysts said any mass cancellation of the coal blocks could lead to a surge in imports and widen the trade deficit given the impact on domestic production. The court will decide on Sept. 1 whether to cancel the allocations.
Rupee gains were also curbed ahead of gross domestic product data for the April-June quarter on Friday and possibly current account deficit numbers sometime this week.
"We feel de-allocation could have serious implications for the user industries and possibly for the economy," Morgan Stanley said in a note on Tuesday.
However, most dealers say it is too early to take a call until a further ruling from the Supreme Court.
The partially convertible rupee closed at 60.4335/4450 per dollar compared with 60.4650/4750 in the previous session.
The gains tracked higher Asian currencies on hopes that the region would continue to attract capital inflows should the European Central Bank further ease monetary policy as some analysts expect.
In the offshore non-deliverable forwards PNDF, the one-month contract was at 60.80/85, while the three-month was at 61.34/44.