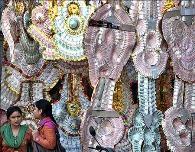 After breaching the 56-level against the dollar in early trade, rupee on Thursday recouped some losses to end at a two-week low of 55.75, still 10 paise down from its previous close.
Forex dealers cited weakness in local shares and sustained demand of the American currency from importers as reason for the local unit falling below 56-level intra-day.
At the Interbank Foreign Exchange (Forex) market, the rupee started sharply lower at 55.88 a dollar from its last close of 55.65 and dropped further to a low of 56.04, a level not seen since August 3, 2012.
However, traders said around Rs 100 crore of FII inflows into stocks cushioned rupee against a sharper fall. The rupee later bounced back on dollar selling by exporters to the day's high of 55.70. It concluded at 55.75, still a fall of 10 paise or 0.18 per cent over the previous closing.

Today's losses extend rupee's recent downtrend to four days in which it has weakened by 50 paise.
Dealers attributed initial steep dip in the rupee value to heavy dollar demand from importers and some banks.
The dollar rose in early trade after strong US data dashed expectations of quantitative easing (QE) by US Fed. The dollar index, consisting of six major global units, was up by 0.05 per cent while New York crude oil was trading above $94 a barrel in Europe today.
Pramit Brahmbhatt, CEO, Alpari Financial Services (India) said: "The rupee regained most of its lost ground towards the end. The widening of the trade deficit numbers has been weighing on rupee along with the rise in dollar index".
The rupee is expected to continue its weak trend and we don't see any major improvement happening in global markets and expect it to remain volatile in coming months as well, said Abhishek Goenka, Founder & CEO, India Forex Advisors.
Meanwhile, the Indian stock market benchmark Sensex today snapped its two-session uptrend and closed 71 points down.
The premium for the forward dollar reacted downwards on fresh receipts by exporters.
The benchmark six-month forward dollar premium payable in January dropped to 174-176 paise from Tuesday's close of 179-1/2-181-1/2 paise.
The premium for far-forward contracts maturing in July also declined to 331-333 paise from 334-1/2-336-1/2 paise.
The RBI has fixed the reference rate for the US dollar at 55.9890 and for euro at 68.6855.
The rupee moved down further against the pound sterling to 87.53 from previous close of 87.34 while it recovered against the euro to end at 68.47 from 68.73.
The rupee also recouped losses against the Japanese yen to end at 70.36 per 100 yen from last close of 70.80.