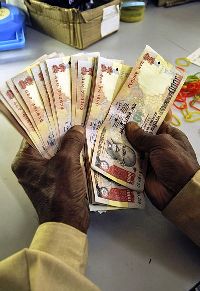 The rupee dropped to its lowest level in a week on Thursday, in a reversal from the eight-month high hit just a day earlier, after shares retreated from a record-setting rally and as losses accelerated, with importers rushing in to buy dollars.

Traders said the rupee was also hit after Reserve Bank of India Governor Raghuram Rajan was quoted by Mint newspaper as saying the rupee was "too strong" at 55 to the dollar.

Rajan's comments come after he had warned on Wednesday that a gain in the rupee to 45 or 50 per dollar could hit exports, during an interview to CNBC-TV18.

The RBI has been spotted buying dollars in the recent session to shore up its reserves and prevent excessive appreciation in the rupee.

Analysts said the comments may have spurred importers to step in to buy dollars, reinforcing expectations the RBI will continue to intervene should the rupee continue to gain.

"There was very good demand from oilers and other importers.

The RBI governor's comments irked importers who bought today, but largely the rupee will remain rangebound," said Vikas Babu Chittiprolu, a senior foreign exchange dealer with Andhra Bank, who sees the unit in a 59.60 to 60.80 range this week.

The partially convertible rupee closed at 60.165/175 per dollar, compared with its previous close of 59.90/91 close, after falling to as much as 60.2850 intraday, its weakest against the dollar since March 28.

The reversal comes after the rupee had risen to as much as 59.5950 on Wednesday, its strongest since July 30.

The Sensex fell on Thursday after touching its ninth consecutive record high as state-run banks such as State Bank of India slumped on concerns about losses on their debt portfolios as domestic bonds extended a slide this week.

Traders will continue to monitor share moves for cues on foreign fund flows which have been a crucial factor helping the rupee gain. Net inflows into debt and equities of over $10 billion so far in 2014 have helped the rupee gain 2.7 per cent.

In the offshore non-deliverable forwards, the one-month contract was at 60.61, while the three-month was at 61.30.


Image: A shopkeeper counts rupee notes; Photograph: Reuters