Investor sentiment got a boost following remarks from the Russian President Putin that allayed fears of an imminent military conflict in Ukraine

Market maintained its initial firmness into closing deals as investor sentiment got a boost following remarks from the Russian President Vladimir Putin that allayed fears of an imminent military conflict in Ukraine.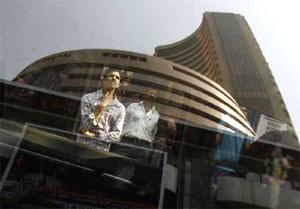 Putin said Russia reserved the right to use all options to protect compatriots who were living in "terror" in Ukraine, but that force was not needed for now.

Investors also found solace in Chinese leaders' comments that their growth target will remain unchanged at 7.5 per cent on the first day of an annual session of the national legislature. International investors are jittery over the prospects of a global economic recovery as the world's second largest economy showed signs of a sustained slowdown.

Also, investors cheered provisional exchange data that showed foreign funds buying $30.03 million worth of local stocks on Tuesday.

G-secs back home rebounded as investors bought at higher yields after as local currency remained relatively stable despite the geopolitical tension in the Ukraine in the last week.

At 61.72, the rupee was down 13 paise compared to yesterday's close of 62.86 versus the dollar. Dealers cited dollar selling by a foreign and a state-run bank.

The 30-share Sensex was up 67 points at 21,277 and the 50 stock NSE Nifty index added 30 points to close at 6,329 levels.

Broader markets outperformed the benchmarks, with the BSE Mid-cap and Small-cap ending 0.4% - 0.9% higher, compared to Sensex's 0.3% gains during the day.

ICICI Bank, SBI, ONGC, Infosys and ITC were the top Sensex gainers while Reliance, Bharti Airtel, Tata Motors and Tata Power remained the top laggards.

Around the globe

Asian shares inched higher after the US and European markets ended higher on Tuesday due to easing tensions in Ukraine.

Nikkei-225 ended 1.2% higher, Singapore's Strait Times was up 0.3%, South Korea's KOSPI Composite added 0.8% while Hong Kong's Hang Seng bucked the trend with 0.3% losses during the day.

Local flavour

Among other major developments on the domestic front, Chief Election Commissioner V.S. Sampath announced that the Lok Sabha polls would be conducted in 9 phases between 7 April and 12 May 2014. Analysts expect significant volatility ahead of elections while outcome is expected to set a long-term trend for markets.

Activity in the services sector, the largest segment of the economy, contracted for the eighth straight month, as indicated by the HSBC Purchasing Managers' Index (PMI) index. Although the PMI for services increased to 48.4 points, up from 48.3 points in January, a reading below 50 points indicates contraction.

Sector and stocks

BSE Realty, Bankex and capital goods emerged the top gainers among BSE sectoral indices while consumer durables and healthcare indices remained on the losing front.

BSE Capital goods index neared its 52-week high levels on hopes of an improved business climate post elections and a surge in February manufacturing activity. February HSBC PMI for the manufacturing sector rose to a year's high at 52.5 points, against 51.4 in January, data released on Monday showed.

ABB India, VA Tech Wabag, AIL, IL&FS Transportation Networks closed 5-9% higher; Thermax, Bharat Elect, FAG Bearings were up more than 4%, Suzlon Energy and Siemens were other top gainers on the capital goods index.

Consumer Durables declined over 1%, after registering significant gains in the past few days, as investor booked profits in index constituents

Other shares

Among other stocks, Nucleus Software Exports hit a 5-year high of Rs 248 in the intra-day trades, extending its nearly 10% rally in past two days, after the company said it has launched its transaction banking product suite FinnAxia for the global market.

Autoline Industries surged 7.7% to Rs 69.65 after the company said its board will meet on March 11 to consider fund-raising options, including selling stake in U.S. unit.

Bharti Infratel has rallied nearly 4.4% to Rs 199.85 on the BSE, after Reliance Jio Infocomm signed an agreement with the company to utilise the telecom tower infrastructure of the latter to launch its services across the country.

IL&FS Transportation Networks has moved higher by 5.3% to Rs 113.60 after the company has fixed an issue price at Rs 100 per share for the proposed rights issue. The company plan to mobilize about Rs 550 crore by issuing 52.4 million equity shares.