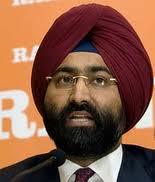 Seeking infrastructure status for the healthcare sector, Fortis Healthcare Executive Chairman Malvinder Singh on Friday said such a move would not only help the industry but also make it affordable to all.

"I hope healthcare gets infrastructure status because that will really help the industry," Singh said during a panel discussion at the ET NOW India Economic Conclave in New Delhi.

Despite healthcare being affordable, it is not affordable to a certain section of the society, he added.

"There needs to be a PPP approach to improve accessibility of healthcare. For affordability, we need to expand health insurance that will allow us to reach out," Singh said.

Fortis Healthcare, Apollo Hospitals and Max Hospitals are among the major private hospital chains in the country.

According to a report, the Indian healthcare sector will need a total capital investment of Rs 1.62 lakh crore (Rs 1.62 trillion) to provide accessible and affordable healthcare during the 12th Plan period.

India will need to add at least 650,000 beds by 2017 to help improve access to healthcare infrastructure from the current 1.3 beds per 1,000 population in 2011 to 1.7 beds per 1,000 population by the end of the 12th Plan period in 2017.
Image: Malvinder Singh