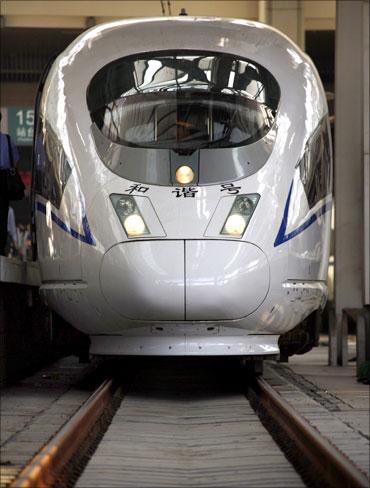 Linking India's growth to high-speed trains, chief of a Japanese rail company said quicker movement will help the country in realising its ambition of pushing development and progress.
Yoshiyuki Kasai, Chairman of the Central Japan Railway Company which runs bullet trains in that country, said India has the potential of running high-speed trains, particularly between various cities in the range of 500 and 600 kms.
"High-speed railway makes travel time between cities shorter by several hours. Due to this, different cities are integrated into a single economic lifezone," he said while addressing a seminar.
To buttress his argument that India can achieve higher growth with the help of high-speed trains, he highlighted Japan's experience in this aspect.
"Japanese high-speed railway system is designed to minimise travel time for commuters, which has a great economic benefit," Kasai said.
The Central Japan Railway Company (JRC) operates the Tokaido Shinkansen bullet train system that links Japan's principal metropolitan areas of Tokyo, Nagoya, and Osaka.
Reflecting on the potential for replication of Japan's bullet train model in India, Kasai said, "India has a strong conventional railway network. However, there is an immense potential for high-speed trains in an industrialising India.
"There will be cost implications to setup a high-speed railway network between important Indian towns and cities lying within a 500 km to 600 km radius, but the long-term economic and social impact will be huge. This can be done through public-private partnership to minimise the financial burden."