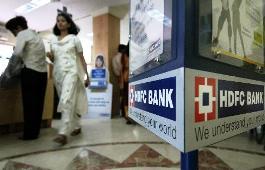 HDFC Bank on Friday posted 30.06 per cent jump in net profit at Rs 1,559.98 crore (Rs 15.59 billion) in the July-September quarter.

It had posted post tax profit of Rs 1,199.35 crore (Rs 11.99 billion) in the corresponding period last year.

The bank's net interest income was up 26.7 per cent at Rs 3,731.7 crore (Rs 37.31 billion).

The non-interest income increased marginally to Rs 1,345.1 crore (Rs 13.45 billion) from Rs 1,211.7 crore (Rs 12.11 billion) during the second quarter this fiscal, it said in a filing to the BSE.

Its core net interest margin stood at 4.2 per cent.

The bank's Q2 income moved up to Rs 9,869.8 crore (Rs 98.69 billion), from Rs 7,929.4 crore (Rs 79.29 billion),
it said.
The second largest private sector lender saw its balance sheet size increase 19.5 per cent to Rs 3,77,375 crore (Rs 3,773.75 billion) at the end of the reporting quarter.
Its net advances were up 22.9 per cent at Rs 2,31,649 crore (Rs 2,316.49 billion), compared to the September 2011 figure while deposits were up 18.8 per cent at Rs 2,74,130 crore (Rs 2,741.3 billion).
The share of the low-cost current and savings account deposits stood at 45.9 per cent.
The bank scrip was trading at Rs 630.25, up 0.91 per cent on the BSE, whose 30-share benchmark Sensex was down 0.54 per cent at 1400 hours.