The Delhi High Court on Friday exempted personal appearance of Mukesh Ambani, MD of Reliance Communication LTD, in an eight-year-old criminal case.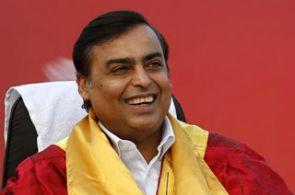 The case relates to the company allegedly developing a software in its mobile services for planning increased probability of a child of particular gender.

The court's order came on Ambani's plea against June 7 order of the Chief Metropolitan Magistrate summoning him and his erstwhile company Reliance Infocom Ltd as accused in the case despite the fact that his name is not in the chargesheet.

Issuing notice to Delhi Police, Justice Sunil Gaur sought its response by December 5 on Ambani's plea against the trial court's summoning order and also for quashing of the FIR.

The court also granted exemption to Ambani from personal appearance saying, "Any authorised representative of the petitioner can appear before the trial court on September 10.
The trial court will not insist his personal appearance till this court's further order."
Similarly, the court said that any authorised representative of the company also can appear before the trial court.
The summons was issued by the magisterial court in a case registered on a criminal complaint by Directorate of Family Welfare, Delhi Government.
An FIR was registered by the Special Cell of Delhi Police on January 30, 2005 under the provision of Pre-Conception and Pre-Natal Diagnostic Techniques (Prohibition of sex selection) (PNDT) Act and also attempt to cheat under IPC.
In its charge sheet, police named only nine officials of the company but did not name Ambani and the company.