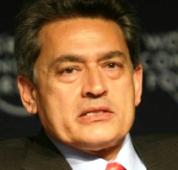 India-born former Goldman Sachs Director Rajat Gupta, who was handed down a two-year prison sentence on insider trading charges by a US court, has filed an appeal against his conviction.

Gupta, 63, has appealed to the US Court of Appeals for the Second Circuit, seeking to overturn his conviction on charges of conspiracy and securities fraud.

According to the Notice of Appeal filed by his lawyer Gary Naftalis in US District Court Southern District of New York, Gupta's "appeal concerns conviction only."

The former McKinsey head is one of the most high-profile Wall Street executives to be convicted by the US government in its widespread probe of insider trading.

He was convicted after a three-week jury trial in May this year on four counts of conspiracy and securities fraud, including that he passed on information to now-imprisoned hedge fund founder Raj Rajaratnam about billionaire Warren Buffet's proposed $5 billion investment in Goldman Sachs in September 2008 as well as the banking giant's financial earnings.

Gupta was sentenced last month to two years' imprisonment and has been ordered to pay a $5 million fine.

He would also have to undergo a year of supervised release after his prison term ends.

Gupta would have to surrender in prison on January 8 next year and in separate papers filed, the court had recommended New York's Otisville minimum security prison for the Harvard and IIT graduate.

At the sentencing, Naftalis had said his client would appeal against his conviction and had sought to seek bail for Gupta pending the appeal.

US District Judge Jed Rakoff, who sentenced Gupta, denied Naftalis' bid to have him freed on bail pending the appeal, which could have lasted as long as two years.
Image: Rajat Gupta