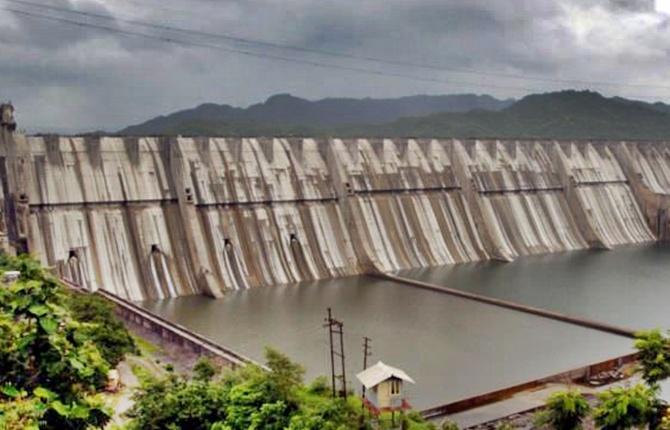 Sardar Sarovar Dam. Photograph: Reuters
Even while the union budget may not have announced many direct schemes for Gujarat, the state has been a major beneficiary under Prime Minister Narendra Modi's first 100 days in office.
From approval for increase in height of Sardar Sarovar Dam to Centre's decision to host Bharatiya Pravasi Divas from Gandhinagar in Gujarat and green nod for Adani Group's special economic zone (SEZ) in Mundra, Gujarat has seen a slew of measures in its favour by the new government at Centre.

On one hand, within 17 days of coming in power, the new government allowed the Sardar Sarovar Dam height to be increased from 121.92 metres to 138 metres, while on the other, within couple of months Adani Group's Adani Ports and Special Economic Zone (APSEZ) Ltd got a long pending green nod.
On July 16 the union ministry of forests and environment (MoEF) granted environment clearance to the special economic zone (SEZ) for 8,481 hectares in Mundra taluka of Kutch district of Gujarat.

The union government also accorded coastal regulation zone (CRZ) clearance to setting up of desalination plant, sea water intake, outfall facility and pipeline.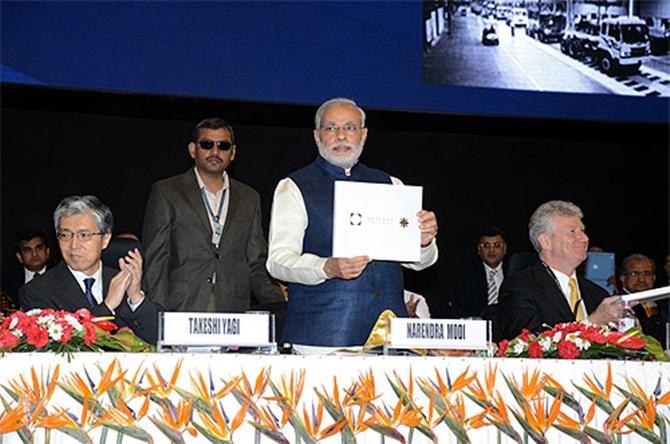 Prime Minister Narendra Modi during the Vibrant Gujarat Summit. Photograph: Reuters
Come January 2015, the state's Vibrant Gujarat Summit is also set to get a fillip from the Centre's decision to let Gujarat host the next edition of Pravasi Bharatiya Divas which will also see the presence of Prime Minister Narendra Modi.
Dinesh Awasthi, director of Entrepreneurship Development Institute of India (EDI) is of the view that the event will see a quantum jump in participation from domestic and international delegates alike.

What's more, recently the National Board for Wildlife (NBWL) gave green nod to nine government and private projects in Gujarat, though the same is now in abeyance post a Supreme Court order.

It needs to be mentioned here that the NBWL was reconstituted following the change of regime at Centre. Apparently, the newly constituted NBWL has two members from Gujarat: retired IFS officer of Gujarat, H S Singh, and Gujarat Ecological Education & Research (GEER) Foundation.

Further, the state has also seen budgetary allocations being made for projects like Statue of Unity and the Ahmedabad-Gandhinagar metro. However, while some believe the state may continue to attract more benefits, others differ stating it is too early to opine on such a trend.
Commenting on the Gujarat specific allocations in the Union budget economist and director of the Centre of Development Alternatives, Ahmedabad, Indira Hirway said that it was too early to say if Modi would continue to favour Gujarat.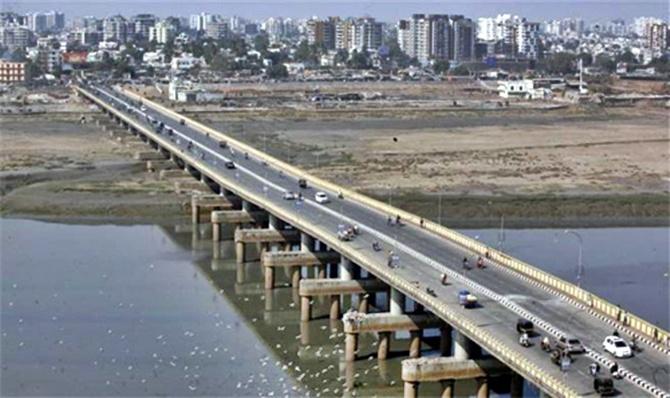 Vehicles move over a bridge built over the river Tapi at Surat, in Gujarat. Photograph: Amit Dave/Reuters.
There have been favours for Gujarat since Modi became PM. But it is too early to comment if such favours would continue. Also, the allocations in the budget for Gujarat need to be compared with allocations made to other states," Hirway said.
She felt that one needs 6-7 months more to get a clear picture on how the things will develop. "There are lot of developments taking place at the centre. Also, lot of things have been said. How much of it is being implemented needs to be seen," Hirway explained.
According to Ravindra Dholakia, professor of economics at IIM Ahmedabad, the new government at Centre has instead been more uniform in its approach to states.
"Several projects were pending including the Mundra SEZ. However, this new government has taken a uniform measure for all states in clearing pending projects," said Dholakia.
Awasthi affirmed that in near future as well, Gujarat will continue to benefit more than other states.
"This is also because Gujarat is first among equals. It has excellent infrastructure and surplus power and will make the most of the projects cleared by the Centre. As far as the Centre is concerned, environmental clearances will be hastened in near future," adds Awasthi.
How Gujarat Benefited:
Approval for 17 metres height increase of Sardar Sarovar dam
PM's participation in Vibrant Gujarat and Pravasi Bharatiya Divas
Green nod for Adani's Mundra SEZ
Green nod for 40-km stretch of road passing through Wild Ass Sanctuary in Kutch
Budgetary allocations for Statue of Unity, Metro project in Gujarat