Oil firms yet to get Rs 18,000 crore (Rs 18 billion) of FY12 subsidy compensation, as estimate for this year's underrecovery swells past Budget allocation.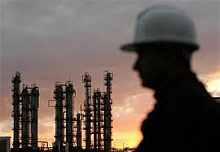 The government's tight fiscal situation is telling on its cash compensation mechanism for oil marketing companies (OMCs).

The government is yet to implement an announcement made two months earlier, on a release of Rs 17,000 crore under a tranche-based system of compensating OMC losses. This money might come to the companies in three tranches by next month.

The government had announced cash compensation of Rs 38,500 crore (Rs 385 billion) for the three companies -- Indian Oil [ Get Quote ], Bharat Petroleum and Hindustan Petroleum -- on May 21, to prevent them from declaring losses in their FY12 annual results. These companies declared their results towards May-end, with small profits after accounting for the cash compensation.

The three companies sell diesel, kerosene and domestic cooking gas at a government-regulated price and often at a loss. This is compensated through a cash subsidy from the government and discounts on crude oil from Oil and Natural Gas Corporation and Oil India.

However, a little more than 40 per cent of the cash assistance assured for last year is yet to be released to them. The three companies have a combined borrowing of around Rs 140,000 crore (Rs 1,400 billion) and the delayed release of cash is adding to the borrowing and interest cost. They have to resort to short-term borrowings at an interest rate of around nine per cent.

These companies are preparing to declare their first quarter numbers shortly but are yet to fully receive the subsidy assistance for 2011-12. "We had got an assurance letter of cash compensation worth Rs 20,080 crore (Rs 200.8 billion).

So far, we have got three instalments amounting to Rs 11,376 crore (Rs 113.76 billion). We expect more cash to come in by mid-August," said an Indian Oil official. The company has borrowings of Rs 83,000 crore (Rs 830 billion).

Similarly, Bharat Petroleum and Hindustan Petroleum are yet to receive compensation of around Rs 4,500 crore (Rs 45 billion) each. The two were promised assistance of Rs 9,000 crore (Rs 90 billion) and Rs 8,000 crore (Rs 80 billion), respectively.

The government proposes to bring down the fiscal deficit to 5.1 per cent of the gross domestic product in the current financial year, from 5.7 per cent last year, by reining in subsidy spending.
However, the under-recovery of the three oil companies on sale of diesel, kerosene and domestic LPG for the current financial year is expected to swell to around Rs 160,000 crore (Rs 1,600 billion) from Rs 138,500 crore (Rs 1,385 billion) in 2011-12, if no quick decision is made on revising the prices of these products, especially diesel, is taken.
Going by the trend, the government might have to shoulder 60 per cent of the total oil subsidy this year, too, amounting to Rs 96,000 crore (Rs 960 billion), while its year's budget provides for just Rs 40,000 crore (Rs 400 billion).