The government is committed to restricting fiscal deficit at 5.3 per cent of GDP this financial year and has no immediate plans to go for additional market borrowings, a senior government official said on Thursday.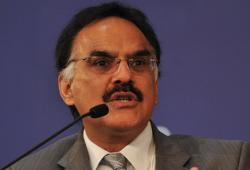 "It (fiscal deficit) shall not be more than 5.3 per cent and we are going towards that, whatever it takes," secretary in the Department of Economic Affairs, Arvind Mayaram, said at the World Economic Forum on India.

Finance Minister P Chidambaram has already said that this year fiscal deficit will be 5.3 per cent, he added.

"... it will be 5.3 per cent," Mayaram reiterated.

Fiscal deficit refers to the gap between government's expenditure and revenue receipts.

The Budget for 2012-13 pegged fiscal deficit at 5.1 per cent of GDP. However, in view of lower-than-expected revenue realisation and increased subsidy outgo, the finance ministry is expecting the fiscal deficit to go up to 5.3 per cent during 2012-13.

In order to finance the 5.1 per cent deficit, the government had planned to borrow Rs 5.7 lakh crore (Rs 5.7 trillion). A higher fiscal deficit of 5.3 per cent translates into an additional market borrowing of Rs 20,000 crore (Rs 200 billion).

The Secretary further said that the government has no immediate plans to go for additional market borrowing and decision in this regard would be taken in January-February.

"We will assess around February, what our (borrowing)
requirement is, if there is any. Although we are hoping not to go and borrow, but in case there is a marginal requirement, that assessment and how much we will borrow will happen only in January-February," Mayaram said.
The government is currently borrowing Rs 20,000 crore every week from the markets.
In the first half (April-September) of 2012-13, the fiscal deficit rose to Rs 3.37 lakh crore (Rs 3.37 trillion) which was 65.6 per cent of the budget estimate.
Fiscal deficit scenario worsened for government on account of lower tax realisation and poor response to disinvestment programme.