Government will introduce one billion (100 crore) pieces of Rs 10 bank notes made of plastic on a field trial basis in five cities, Minister of State for Finance said in Parliament on Tuesday.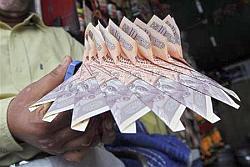 "It has been decided by the government and the RBI (Reserve Bank of India) to introduce one billion pieces of Rs 10 notes in polymer/plastic on a field trial basis," Minister of State for Finance Namo Narain Meena said in a written reply to the Rajya Sabha.

The minister said the field trail will be conducted in five cities -- Kochi, Mysore, Jaipur, Bhubhaneswar and Shimla with varied geographical locations and climatic conditions.

"RBI has informed that while the primary objective of introduction of polymer notes is to increase its life, it could also help in combating counterfeiting," he added.

In reply to a separate question, Meena said various agencies such as the RBI, Ministry of Finance, Ministry of Home Affairs, Security and Intelligence Agencies of the Centre and States, Central Bureau of Investigation are working in tandem to thwart the illegal activities related to Fake Indian Currency Notes (FICN).

He
also said the work of these agencies is periodically reviewed by a nodal group set up for this purpose.
"Further, one special FICN Coordination (FCORD) group gas been formed in the Ministry of Home Affairs to share the intelligence/information amongst the different security agencies of state/centre to counter the menace of circulation of fake currency notes in the country," he added.
Meena said National Investigation Agency (NIA) has been empowered by NIA Act to investigate and prosecute offences relating to FICN.
"Government has also constituted a Terror Funding and Fake Currency Cell in NIA to focus investigation on terror funding and fake currency cases," he said.