The government will pay Rs 25,000 crore (Rs 250 billion) additional cash subsidy to state-owned fuel retailers to make up for part of the revenue they lost on selling auto and cooking fuel below cost this fiscal.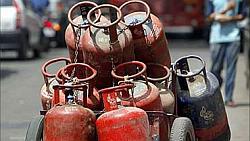 The Finance Ministry on February 7 issued a "comfort letter" to Indian Oil Corp (IOC), Bharat Petroleum Corp (BPCL), and Hindustan Petroleum Corp (HPCL) sanctioning Rs 25,000 crore for part of the revenue they lost on selling diesel, domestic LPG and kerosene below cost, official sources said.

Previously, the government had released Rs 30,000 crore (Rs 300 billion) subsidy. With the latest sanction it has met about 44 per cent of the Rs 124,854 crore (Rs 1.24 trillion) revenue the three firms together lost on selling auto and cooking fuel below cost during the April-December period this fiscal.

Of the latest sanction, IOC would get Rs 13,474.56 crore (Rs 134.74 billion), BPCL Rs 5,987.25 crore (Rs 59.87 billion) and HPCL Rs 5,538.19 crore (Rs 55.38 billion).

Sources said the Finance Ministry has only issued a comfort letter, which the oil companies will account as receivables to post decent third quarter earnings. Actual
cash will flow only after Parliament approves supplementary demands for grants or additional spending.
IOC, BPCL and HPCL lost Rs 39,268 crore (Rs 392.68 billion) in revenue on selling diesel, LPG and kerosene at government controlled rate in October-December quarter.
Of this, about Rs 15,000 crore (Rs 150 billion) will be made good up upstream firms like Oil and Natural Gas Corp (ONGC) and Oil India Ltd.
Fuel retailers currently lose Rs 9.22 a litre on diesel, Rs 31.60 per litre on kerosene and Rs 481 on every 14.2-kg LPG cylinder.
They lose Rs 443 crore (Rs 4.43 billion) per day of sale of the three fuel.
The Finance Ministry pays cash subsidies to state oil retailers while state-run upstream companies - ONGC, OIL and GAIL India Ltd - sell crude oil and products like LPG products at a discount.
From the previous Rs 30,000 crore dole, IOC had got about Rs 16,100 crore (Rs 161 billion), while HPCL and BPCL's was about Rs 6,670 crore (Rs 66.70 billion), and Rs 7,200 crore (Rs 72 billion) respectively, sources added.
Upstream firms have till now paid Rs 45,000 crore (Rs 450 billion) in fuel subsidy.