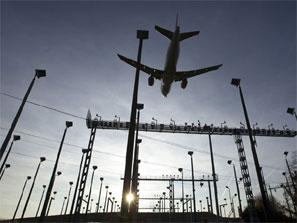 Government employees have been permitted to fly airlines other than Air India on official trips or to avail Leave Travel Concession (LTC) only if the national carrier does not operate to such destinations, according to a latest order.
So far, government officials or employees were allowed to fly only Air India or its subsidiaries on official duty.
The order issued by the civil aviation ministry says in case government officials or employees plan a trip to a destination not served by Air India, they would have to fly the state-run airline or its subsidiaries till a hub or the "point closest to the eventual destination" and then take another airline.
Following a large number of representations about routes not connected by Air India, the ministry decided to extend a blanket relaxation on the use of other airlines on sectors not flown by the national carrier, official sources said.
However, this sanction would be deemed "null and void" whenever Air India or its subsidiaries start operations to such destinations, the order issued late last month said.
The order also annexed a list of 37 domestic sectors where Air India does not operate and flights by other airlines could be allowed, they said.