The government will consider imposing stock holding limits on food items like pulses and cooking oils to check hoarding for containing price rise, Food Minister K V Thomas [ Images ] said.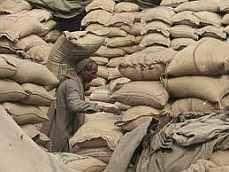 The minister said the government is monitoring the price situation on daily basis and is also in touch with the state governments.

"We will examine the option of imposing stock holding limits on food commodities," Food Minister K V Thomas told reporters on the sidelines of an event on food security in New Delhi [ Images ].

Through stock holding limits, government checks hoarding of food items by restricting traders to store excess stock than the quantity allowed by it.

The Centre had withdrawn stock holding limits on a number of food items on the back of bumper production.

Thomas noted that the government is not concerned over prices of foodgrains and sugar because of excess production than demand, but is "worried" about pulses whose production may drop due to poor monsoon so far this year.

Monsoon, crucial for Indian agriculture, is deficient by 21 per cent in the country so far.

The minister said the government is considering to start again its scheme to sell subsidised pulses through ration shops. The subsidy of Rs 10 per kg on pulses might also be increased.

On Tuesday, Agriculture Minister Sharad Pawar [ Images ] had also said that rice and wheat situation is comfortable but he is keeping his fingers crossed on pulses and oilseeds prices.

The overall food inflation rose to 10.81 per cent in June 2012, from 10.74 per cent in May. In June last year, inflation rate in this category was 7.6 per cent.

In food articles category, rice turned expensive by 6.70 per cent, wheat 7.46 per cent, pulses 6.82 per cent and vegetables by 20.48 in June on an annual basis.

On month-on-month basis, poultry chicken prices were up by 7 per cent, gram 6 per cent, masur 4 per cent, and fruits and vegetables, egg, arhar, rice by 2 per cent each. Tea, milk, wheat and mutton were up 1 per cent each.